Jewish organization admits 'great respect' for decision dismissing cover up case against Cristina Fernandez
Saturday, February 28th 2015 - 08:08 UTC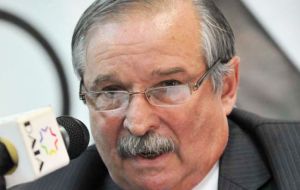 The head of Argentina's DAIA Jewish community organization Julio Schlosser has said Federal Judge Daniel Rafecas decision to dismiss the AMIA cover-up charges against President Cristina Fernandez and other officials deserve "the greatest respect".
Rafecas on Thursday dismissed the accusation made by a state prosecutor that claimed President Cristina Fernández and top government officials conspired to cover up Iran's alleged role in the 1994 bombing of the AMIA Jewish community center.
Schlosser revealed Rafecas invited DAIA to inform them of his decision before he made the dismissal public.
"We respect justice. One feels surprised but not frustrated, that would only happen if someone tells us there can no longer be an investigation into the AMIA bombings," he said.
The head of the DAIA Jewish community organization considered that prosecutor Gerardo Pollicita will probably appeal the dismissal, but if he does not, DAIA would accept it.
In January, Nisman had accused Fernandez of seeking to whitewash the investigation into the 1994 AMIA attack that killed 85. Four days later he was found dead with a bullet to the head, spawning a torrent of conspiracy theories.
The inquiry into the alleged cover-up was given this month to prosecutor Gerardo Pollicita, who submitted the complaint.
Meanwhile, Interior and Transport Minister and presidential hopeful for the ruling Victory Front (FPV) Florencio Randazzo praised the judge's decision and said the true "coup" against Ms Cristina Fernandez was that the AMIA special prosecutor appeared dead.
However opposition leader Elisa Carrió, on the other hand, said Rafecas has been "pushed" to dismiss the charges, and linked his decision with the recent appointment of Eduardo "Wado" De Pedro as Secretary General to the Presidency, as he "has always been a great negotiator inside the Council of Magistrates."