Peru to withdraw ambassador from Chile because of alleged military espionage
Monday, March 9th 2015 - 07:59 UTC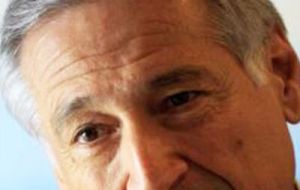 Peru said it was withdrawing its ambassador from Chile, amid an intensifying diplomatic spat that was sparked by accusations of military espionage. The Peruvian government is prosecuting two non-commissioned officers in its navy and investigating a third for allegedly spying for neighboring Chile.
The case has soured relations just a year after an international court decision that settled a festering maritime boundary dispute had raised expectations their long history of mutual distrust was past.
Peru has urged its southern neighbor to carry out an investigation to find those responsible for the spying and to guarantee that it won't happen again.
In announcing the decision to withdraw its envoy, Peru's foreign ministry reiterated its demand Chile swiftly hand over results of its investigations into the spying allegations.
Peru would "proceed with withdrawing its ambassador from Santiago" until it deemed itself satisfied, the foreign ministry stated.
Chile responded by saying it would not comment on the sovereign decision of another country.
"This is a matter which falls exclusively to Peru," Chile's foreign minister, Heraldo Munoz, said of Lima's decision to pull its ambassador out. "In as much as we will not comment on the sovereign decision of other countries, we don't accept that other countries pass comment on sovereign decisions our country might take."
It is not the first time the two countries have been embroiled in rows over spying. In 2010, an officer in the Peruvian air force was jailed for 35 years for selling information to Chile.
The head of Peru's military courts has said that the trial of the two naval officers might not wrap up until August and that ongoing investigations are probing whether high-ranking officers were also involved.