Argentine candidate anticipates 'dollars in excess' if he is elected president in October
Wednesday, March 18th 2015 - 02:03 UTC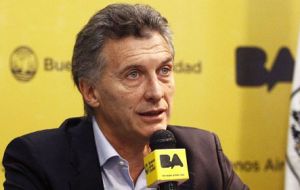 An Argentine presidential hopeful Mauricio Macri has vowed to eliminate the restrictions on the purchase of foreign currency that the Cristina Fernandez has carried out since 2011, and anticipated there will be 'dollars in excess' if he gets elected president in October this year.
"There will be too many dollars in Argentina starting in December. I (will) let the exchange rate float. But we will have to maintain it because there will be so many resources coming that the currency will tend to appreciate. We will seek for a point of balance which does not hurt wage earners," the Buenos Aires Mayor Mauricio Macri told reporters.
Queried about the decision made by the Radical Party (UCR) this weekend to join a broader alliance with Macri's PRO and Civic Coalition's Elisa Carrió, the mayor of Argentina's capital city said no further candidates will be joining the coalition to compete in the PASO primaries to be held in August, referring to the head of the Renewal Front Sergio Massa who served as chief of staff during the first administration of President Cristina Fernández and later moved to lead its own opposition party beating the ruling Victory Front in the 2013 legislative elections.
"It is up to here. We seek the coherence of never been part of Kirchnerism neither of been responsible of ruling over the past 25 years."
The pre-candidate to the presidency also discussed some other key economic issues. Regarding the country's debt, Macri said he was not planning to be a "debtor." "I don't think that it is something of the left or of the right. (Michelle) Bachelet would not think to default or say she will not pay something. Most of Argentineans think the same".
Income tax has been a mayor demand by anti-government unions over the past years, something Macri said that "only the categories that in real values must pay will do so."
In his statements, Macri referred as well to the country's flag carrier, Airlines Argentinas (AA), which was nationalized in 2009, a move the PRO party strongly condemned and opposed to.
"What we are always discussing is about the prejudice if one can go back or not to the 90's. I don't want to return to the 90's neither to 2000. Facing each matter, we will stand like (we did) in the City (of Buenos Aires), seeking for the best solution for people to have the best answer from the State. It could be by license, it could be by self-administration. Anyway, the State must always be present because even concessions have to be controlled".