EU main economies announce plans to join China-led development bank, despite US warning
Wednesday, March 18th 2015 - 08:20 UTC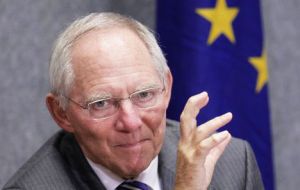 France, Germany and Italy on Tuesday announced plans to join the Chinese-led development bank AIIB, drawing concern in Washington which views the institution with skepticism. The three European countries want "to become founding members of the Asian Infrastructure Investment Bank (AIIB)", they said in a statement.
The 50 billion dollars AIIB has been feted by Beijing as a way of financing regional development, but it is seen as a potential rival to US-based institutions such as the World Bank.
Washington, Tokyo and Seoul have declined to become founding members -- but within a week, Europe's four biggest economies have signaled plans to join. Britain on Thursday announced its ambitions to be the first Western country to join the bank, in a move to bolster relations with China.
Responding to reports of European interest in the bank, Chinese foreign ministry spokesman Hong Lei said: "We welcome countries to join the AIIB as prospective founding members."
"The AIIB is an open and inclusive multilateral investment institution," the spokesman said, adding that "participation by countries outside the region will intensify the extensive representativeness of the AIIB."
China and 20 other countries signed a memorandum of understanding to establish the Beijing-headquartered bank in October.
At a joint press conference with Chinese Vice-Premier Ma Kai on Tuesday in Berlin, German Finance Minister Wolfgang Schaeuble said his country along with Italy and France "want to bring our long experience... to help the bank build a solid reputation".
"We want to make a contribution to the positive development of the Asian economy, in which German companies are actively taking part," he said.
But Europe's move was met with a warning of caution from the United States.
Treasury Secretary Jacob Lew said Washington's main concern was whether the bank would "adhere to the kind of high standards that the international financial institutions have developed".
"Will it protect the rights of workers, the environment and will it deal with corruption issues appropriately?
"Our point all along has been that anyone joining needs to ask those questions at the outset and I hope before the final commitments are made anyone who lends their name to this organization will make sure that the governance is appropriate," Lew told Congress.
Europeans believe that by being inside the AIIB they will be better able to ensure governance standards are high.
"Germany also wants that the AIIB attains the high standards of the World Bank and other regional financial institutions," a source close to the German government revealed. "We are acting on the principle that we can do that best with constructive cooperation in the elaboration of these standards".