Argentina's current account deficit widened to 5.07bn in 2014
Saturday, March 21st 2015 - 06:56 UTC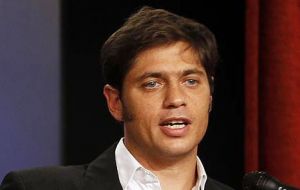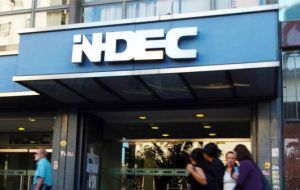 Argentina's current account deficit widened 7.9% to 5.07 billion dollars in 2014 as Latin America's third-biggest economy eked out meager 0.5% growth, official data showed. Exports fell 11.9% from 2013 to 71.94bn, hurt by low international prices for Argentine soy, wheat and corn as well as weakened demand in key trading partner Brazil, where economic growth is also stagnant.
Imports fell at a similar pace of 11.5% to 62.45bn as Argentine authorities restricted the amount of dollars available to businesses in order to shore up the central bank's low foreign reserves.
The current account is the broadest measure of a country's foreign transactions, encompassing trade, services and an array of financial flows, including interest payments. The Economy Ministry said Argentina posted a 6.42bn surplus on trade and services, but that the total outflow of income was 11.40bn. The sum in 2013 was 4.7bn.
Argentina's government long questioned stats office, Indec reported that the economy grew modestly last year, expanding 0.5%, even as many private-sector economists said GDP shrank significantly in 2014. The estimate published by Indec, also put year-over-year growth up by 0.4% in the fourth quarter.
"I don't take Indec's data into consideration anymore," said Fausto Spotorno, an economist at Orlando J Ferreres & Asociados, or OJF, whose growth estimates are widely watched by economists and companies. "I've found that you can't use Indec's growth or inflation data if you want to do any kind of serious analysis."
In OJF's analysis, the economy shrank 2.6% last year and is on track to shrink at least 0.6% this year, assuming Argentina reaches an agreement with hedge funds that sued it in U.S. courts. The U.S. legal dispute has prevented Argentina from borrowing money abroad at reasonably low rates. If the government doesn't make peace with the hedge funds, the economy could contract by as much as 1.9% this year, said Mr. Spotorno.
"The economy is not creating jobs, it's not increasing productivity and it faces many restrictions on the importation of inputs used in manufacturing," he said. "There is also a lack of energy because of insufficient investment in the energy sector. Companies had to buy their own power generators, so their operating costs have risen and they're not using that money to increase productivity."
A group of economists whose estimates are published by opposition members of Congress concluded that the economy shrank 2% in 2014 and 2.6% in the fourth quarter.
Argentina's economy came under pressure from a host of domestic and international challenges last year, some of which have worsened this year. Argentina's automotive industry has struggled amid double-digit inflation and weak demand from Brazil, which typically buys more than 80% of Argentina's car exports.
Brazil has let its currency depreciate rapidly this year, reaching a 12-year low of 3.30 Reais to the dollar. That makes Argentine exports more expensive for Brazilians. On top of that, a scarcity of dollars has made it hard for Argentine firms to obtain the funds needed to import key goods.
One bright spot for Argentina has been good weather, which has benefited farmers and increased crops sizes from a year ago. Farm output directly accounts for around 8% of gross domestic production, according to OJF. Related food products make up around 30% of overall industrial output and about half of all exports.
Another analyst, Estudio Bein sees the economy expanding by around 1.5% this year accompanied by an annual inflation rate of around 25%. The consulting firm estimates that Argentina's economy shrank by about 1.8% last year.