Griesa blocks Euroclear from processing any Argentina bonds payments
Thursday, March 26th 2015 - 08:22 UTC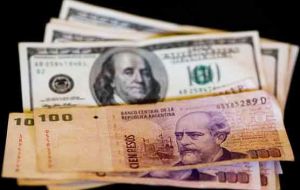 New York judge Thomas Griesa on Wednesday barred Euroclear, the giant Belgium-based financial clearing and settlement house, from processing any debt payments by Argentina. In the newest step tightening Buenos Aires' avenues for avoiding paying off hedge funds on their bonds, Griesa forbade Euroclear from processing "any payments received from any source" in respect to Argentine bonds.
Griesa, also said that Euroclear has to notify the hedge funds of any transfers of Argentine bonds and identify the parties involved.
The order came after NML Capital, Aurelius Capital Management, and Olifant Fund petitioned Griesa to block Argentina's bond payments through Euroclear until they are paid for their bonds under Griesa's 2012 ruling.
Buenos Aires has sought to pay most of its creditors who joined its 2005 and 2010 debt restructurings, but has rejected the court's order to pay the hedge funds which refused to join those restructurings, the so-called holdouts.
The holdouts are demanding the full value of their bonds, while those who participated in the restructurings, after Argentina defaulted on $100 billion in debt in 2001, accepted writing off up to 70% of the value of their holdings.
Buenos Aires says it would be unfair to creditors who participated in the restructuring, and possibly undermine the restructuring deal, if it meets the hedge funds' demands.
The order to block Euroclear follows Griesa's last week decision to allow Citibank to process interest payments on $2.3 billion of Argentina bonds due on March 31st and future payment on June 30th, while urging the bank to get out of its custody business in Argentina.
"Euroclear will not process any payments received from any source, including but not limited to Nacion Fideicomisos SA and Caja de Valores, in respect of any bonds subject to the Injunction, and will hold any such payments in suspension pending a ruling from this Court on their proper disposition," the ruling issued reads.
"Should Euroclear violate the terms of this Order, Plaintiffs shall be free to compel prompt compliance and to seek any other just and proper relief against Euroclear," it warns.