HMS Lancaster takes over from HMS Dragon in South Atlantic patrol tasking
Saturday, March 28th 2015 - 10:21 UTC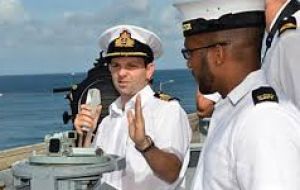 Type 23 frigate HMS Lancaster sailed from her home in Portsmouth last week for a routine nine-month Atlantic patrol tasking, which includes the Falklands and South Georgia. She is the first ship in the Royal Navy to deploy with the new Wildcat helicopter, and her crew are wearing the newest naval uniform in 70 years.
The Wildcat is the latest generation of multi role helicopter for the Royal Navy. It looks much like its predecessor, possessing many of its outstanding characteristics, but is leaps ahead in many ways.
The engines and tail rotor system are considerably more powerful and the cabin is much improved with state-of-the-art cockpit instruments, hi-tech communications and cutting-edge targeting systems.
Extremely versatile, the Wildcat is designed for a variety of roles – anti-ship, anti-submarine, ship protection, casualty evacuation, battlefield reconnaissance and general utility.
HMS Lancaster's crew is the first to deploy on operations wearing the Royal Navy's new uniform. The new rig replaces the Action Working Dress known as No4s – the traditional lighter-blue shirt and trousers worn by sailors at sea – and is the first major change to naval dress since the Second World War.
The clothing which is now dark blue, more modern, comfortable and fire retardant can be adapted to different climates. It offers more protection from flash fires and carries more Royal Navy branding, notably a large White Ensign on the left shoulder. Badges denoting rank are now worn at the front rather than on the shoulders.
Lancaster's Commanding Officer, Commander Peter Laughton, said: "In many ways it's a ground-breaking deployment for the Royal Navy, as we are taking new capabilities and equipment on operations for the first time.
"The ship's new Wildcat helicopter is state of the art and will become the Royal Navy's primary maritime aircraft.
"The ship's company is kitted out in a new uniform designed for additional comfort and to cope better with the temperature extremes of the areas in which we may be tasked to operate".
The ship will take over from HMS Dragon and expects to cover in excess of 30,000 nautical miles and visit up to eighteen different countries. The deployment, which takes the ship across the Atlantic and Pacific oceans, will build on the UK's strong ties with its allies and continue the UK's commitment to the region. (RN)