Cristina Fernandez lashes out at unions for the 24-hour strike that brought Argentina to a halt
Wednesday, April 1st 2015 - 07:45 UTC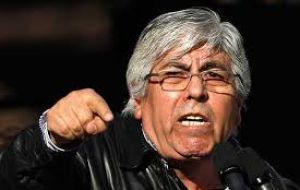 President Cristina Fernandez fiercely criticized the trade union leaders behind Tuesday's 24-hour general strike, which brought Argentina to a halt, arguing that adhesion to the measure would have been far lower if public transport had functioned as normal.
"This was only a transport strike" fired the Argentine president as she attacked the organizers during a rally in the province of Buenos Aires.
Speaking via a national broadcast, Cristina Fernández lashed out against "those who do not want to give a little piece of what they have so that we can continue to extend the water and drainage network, and continue to carry out public works".
"A hardened heart is worse than an oligarch's heart," she added, while calling for solidarity from high-earning workers for those on lower incomes.
"There are people who in the last few years have climbed up step by step in their places of work, their salary and consumption, but there are still many more who are asking to climb up, and we have to show solidarity with them.
"I am proud that this country has the highest minimum wage of all Latin America; I am not proud of the 10% of workers who do not let the other 90% go to work."
Opposition organized labor union CGT leader Hugo Moyano has described the national transport strike as a "success" and stated he expects an "answer" from the government as regards their claim towards an income tax reform.
"I don't want to discuss numbers, the only thing we want to say is that the strike was a success," Moyano told reporters during a press conference held at the CGT headquarters in Buenos Aires City.
Moyano highlighted the "high number" of unions that joined the strike, as well as individual "workers who decided not to go to work."
"Workers have expressed themselves. They demand an answer from the government; we expect an answer from the government," said Moyano as regards the strike's main claim: increasing the floor for the income tax.
Rival union CTA leader Pablo Micheli echoed Moyano's statements and justified the walk-out saying wages are currently "crushed" by taxes: "Salary is not profit," he said, arguing wages should not be taxed.
"We are fighting for better salaries," Micheli said.
All union leaders demanded a reaction from the government of Cristina Fernandez but acknowledged such response is not likely to happen after officials questioned the walkout's main objectives earlier in the day.
On Monday Economy minister Axel Kicillof said the income tax is "correct", and insisted that only 10% or less of the 11 million wage earners in Argentina were behind the 24-hour strike. Cabinet chief Anibal Fernandez described the stoppage as a 'politically' inspired strike.
"We are thinking of continuing with a strike plan," Blue and White CGT leader Luis Barrionuevo said, confirming the possibility of an upcoming 36 hour strike that could include a rally at Plaza de Mayo square.
Moyano said they all were "leaning towards" that alternative if the government does not answer their claims. "We are leaning towards the 36 hour strike. The government is destroying workers salaries and jobs, and they say I work for the political right… What is the left then, Lázaro Báez?" Moyano said referring to a controversial businessman and Kirchner family associate who has been on the spotlight for alleged money laundering.