Prosecution appeals court ruling dismissing Cristina Fernandez from the Iran coverup case
Wednesday, April 1st 2015 - 07:05 UTC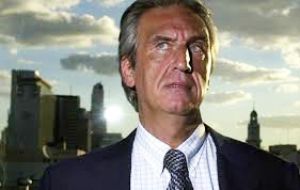 Argentine prosecutor German Moldes has appealed a second court ruling rejecting the report by Alberto Nisman who, a week before he was found dead in his BA City apartment under mysterious circumstances in January, accused President Cristina Fernández and top government officials of seeking to cover up Iran's alleged involvement in the bombing of the AMIA Jewish community center back in 1994.
Judicial sources said Moldes filed an extraordinary appeal requesting the Federal Criminal Cassation Court – the top judicial authority in this area -, to decide on Nisman's report which has already been rejected twice, first by Federal Judge Daniel Rafecas and later by a Federal Appeals Court that upheld the ruling by Rafecas.
Moldes said that the repeal by Judge Rafecas was surprisingly quick and added he was prepared to go to the Supreme Court if necessary, if his appeal is again rejected.
On Monday it was revealed that Foreign minister Hector Timerman has presented a petition before the courts calling for prosecutor general of the Appeals Court, Moldes, to be removed from the AMIA cover-up accusation filed by Alberto Nisman.
Timerman's defense asked for Moldes' removal based on an alleged lack of "neutrality" in the case.
According to the petition, Moldes "is unbalanced" and "has lost neutrality." The complaint is based on an interview the prosecutor gave to a daily newspaper, where he affirmed that Nisman's accusation, which aside the president and Timerman also implicates a national lawmaker, must be investigated.
The cover-up allegations were dismissed in the first instance by judge Daniel Rafecas, who found that there was no evidence of a potential crime. That ruling was upheld by the City Appeals Court, who voted two to one in favour of throwing out the accusation.
In the interview mentioned by Timerman's defense, with La Nacion, Moldes suggests that the dismissal of the case represented a "third death" for Nisman.
"The first was his passing, the second the humiliating, supposedly anonymous campaign that we all suspect of coming from somewhere, with a flood of posters that sought to expose him; and if this accusation is buried without investigating he will have been killed for a third time," he maintained.
Timerman's lawyers argue that Moldes' words demonstrate a "strong suspicion of loss of neutrality."