Falklands oil explorer looking for associate to develop Darwin discovery
Thursday, April 2nd 2015 - 07:42 UTC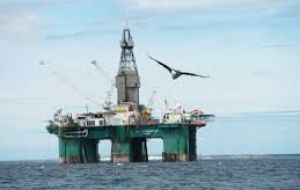 Falklands' explorer Borders and Southern Petroleum PLC said this week its pre-tax loss widened in 2014 as costs increased, and admitted it has struggled to find a partner for the Darwin discovery to the south of the Falkland Islands, against a backdrop of reduced investment by companies caused by the fall in oil prices.
The oil and gas exploration company that is primarily functioning in the Falkland Islands reported a pre-tax loss of 3.9 million dollars for 2014, wider than the 3.0 million loss reported in 2013.
The loss widened as administrative expenses rose to 3.0 million from 2.8 million and finance expenses increased to 910,000 from 207,000 US dollars.
At the end of December, the company had cash reserves totalling around 16 million.
Borders and Southern said it has been looking to secure partners to fund the next phase of appraisal at the company's Darwin discovery against a backdrop of weaker oil prices, reduced expenditure but also cheaper rig and well service costs.
The company said the backdrop has made it difficult to find partners prepared to commit to a multi-well, deep-water drilling programme with each well due to cost 100 million. The company said the 100 million-dollar figure was calculated before the drop in oil prices, and said the location of exploration is also a barrier to some partners taking an interest.
However, it believes that the Darwin discovery is a very "robust" project due to the competitive fiscal terms offered by the Falkland Islands Government and Darwin's high quality reservoir, which results in a lower number of production wells to be drilled.
"We believe that the development of Darwin would prove to be economic, even at oil prices lower than current levels. Certainly, when we benchmark Darwin with other offshore development projects on a cost curve, it is well positioned. So whilst we recognise the challenge in achieving a successful farm-out in the present environment, we remain optimistic that a project as robust as Darwin will attract a partner," said the company in a statement.