Falklands oil exploration rig moves to Isobel Deep, following Zebedee drilling success
Tuesday, April 7th 2015 - 22:40 UTC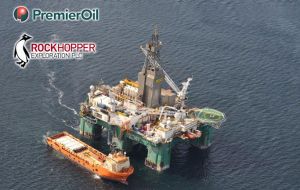 Following its success with the Zebedee drill, the rig Eirik Raude is moving a short distance to start the second well of the latest Falkland Islands exploration campaign. The next target of the current four prospects exploration campaign is Isobel Deep, later followed by Jayne East and finally Chatham.
For the first three of these wells, operator Premier Oil (36%) and Rockhopper, (24%), is joined by Falkland Oil and Gas, which holds 40% as a result of its 2013 takeover of Desire Petroleum.
Isobel Deep sits in an untested area around 40km to the south of Sea Lion, and the prospect could unlock the greatest potential of the wells in the rig's North Falklands Basin.
From seismic, the prospect is interpreted to be a lookalike and on a similar scale to Sea Lion, which is now being developed by Premier. Sea Lion's reserves appear to be around 300million barrels of oil.
Premier's development was downsized to a recoverable figure of around 160million barrels earlier this year because of the collapse in oil prices and mounting costs.
Isobel Deep is a large sedimentary fan formation. Although this apparently promising geology underlies up to eight further stacked fans, including one called Elaine, the well has been designed to test Isobel Deep only.
This fan is the best developed on seismic and success here is expected to prove the geological model for the remaining fans. However, as is always the case when hunting for oil & gas, the conditions might appear right for an oil & gas trapping mechanism to be present, but there has to be an effective seal of some sort over the top.
The joint venture has therefore agreed to target the well to focus on gaining a better understanding of the sands and looking to establish that the same quality sands exist here as encountered in Sea Lion.
Analysts believe that the partners in the wells are paying about $570,000 per day for the Eirik Raude based on day rates from mid-2014 when the rig was contracted. However, today the market rate for the rig is a lot less … about $440,000 per day. This suggests scope for renegotiation of the day-rate, especially after the initial four wells have been drilled.