Rousseff declares Petrobras 'clean' after purging corrupt managers and practices
Friday, April 10th 2015 - 05:24 UTC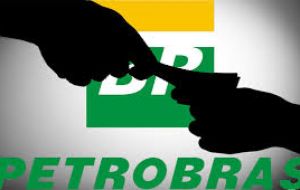 Brazil's State-run oil company Petrobras has purged corrupt managers and put a graft scandal behind it, while hitting record output levels from offshore deposits, President Dilma Rousseff said Thursday. The indictment of former senior executives of Petrobras the investigation of dozens of political allies of Rousseff in the multibillion-dollar kickback scandal has thrown her government into crisis and undermined investor confidence in Brazil.
Rousseff, who has denied knowledge of the scheme that went on while she was chairwoman of Petrobras from 2003 to 2010, said the oil company has cleaned house.
"Petrobras is still standing. It has cleaned up what it had to clean up and got rid of those who took advantage of their positions to enrich themselves,'' Rousseff said in Rio de Janeiro after opening a low-cost housing project.
Rousseff said Petrobras had turned the page on the corruption case and posted record production of 700,000 barrels of oil per day from the subsalt region it is tapping offshore.
The company, however, has had to cut back investment plans and put infrastructure projects on hold because of the blacklisting of dozens of contractors under investigation by prosecutors over bribery allegations.
Petrobras also faces lawsuits filed in the United States by shareholders seeking compensation for the loss of asset value.
Petrobras said Thursday that it still has no date for the release of audited results that have been delayed by calculation of the losses caused to the company.
Rousseff, who was narrowly re-elected in October, has seen her popularity plummet. Polls show most Brazilians hold her responsible for the corruption at the country's largest company.
Twenty-nine companies are being investigated for corruption by the comptroller general on civil charges, and 97 people have been indicted by prosecutors on criminal charges of racketeering, bribery and money laundering.
Prosecutors are investigating 47 politicians, all but one from Rousseff's governing coalition, over allegations they received graft money siphoned off construction and engineering contracts with Petrobras.