Obama praised the 'new beginning' in the bilateral relation with Cuba
Sunday, April 12th 2015 - 08:55 UTC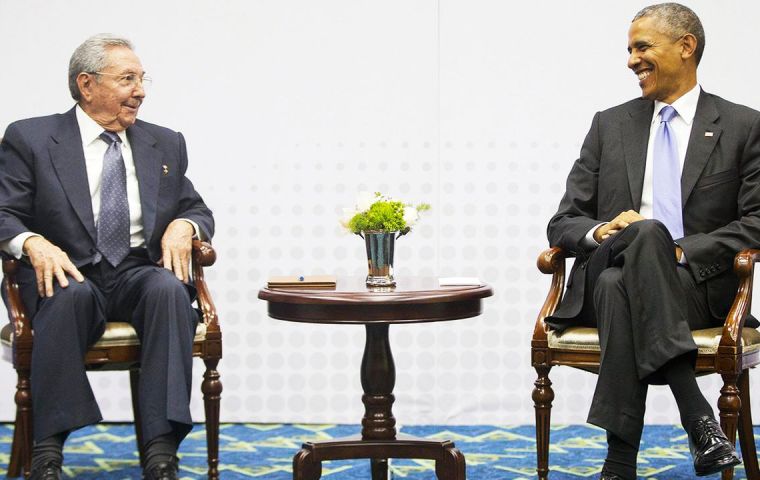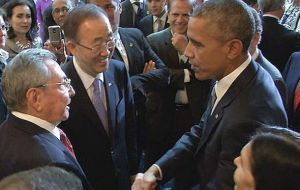 United States President Barack Obama addressed American leaders in the meeting currently taking place in the City of Panama praising the diplomatic rapprochement between Washington and Cuba which he called "a new beginning" in the bilateral relation.
"It means that more Americans will be able to travel to Cuba," the US leader said in the beginning of his message adding that the political "shift" represented as well an opportunity of more investments, more trade and cultural exchange for the Caribbean nation.
One of the most controversial issues in the US-Cuba ties is the economic embargo on the Island commanded by Raúl Castro. Obama said on Saturday that he urged the Congress in his country to work towards the lifting of the economic blockade.
Obama challenged Latin American leaders to improve human rights and democracy even as he works to end decades of hostility between the United States and Cuba.
"I believe our governments together have an obligation to uphold the universal freedoms and rights of all our citizens," Obama told other leaders from across the Americas. "The voices of our citizens must be heard."
Responding to other leaders' criticism of past US policy in Latin America, including its support of military coups and dictatorships during the Cold War, Obama said Washington's record was far from perfect but that it has changed and he would continue to push for greater democracy.
"I just want to make very clear that when we speak out on something like human rights, it's not because we think we are perfect but it is because we think the idea of not jailing people if they disagree with you is the right idea," Obama said.
The US president and Castro shook hands at the opening ceremony of the summit on Friday night, a gesture highlighting the stark improvement in relations over the past few months.
Obama seems close to removing Cuba from a US list of countries that it says sponsor terrorism. Castro has insisted on it as a condition for restoring diplomatic ties. Cuba was first put on the list in 1982 when it supported Marxist rebellions in Latin America but that stopped with the end of the Cold War. The only other countries currently on the list are Iran, Syria and Sudan.
Washington first imposed trade sanctions on Cuba from 1960 and broke off diplomatic relations with Cuba the following year. The two countries then became fierce Cold War foes.
Taking Cuba off the US terrorism list would accelerate the detente between Obama and Castro, although it is not clear how soon Obama will announce it.
Obama has faced some criticism inside the US Congress for his shift on Cuba policy with some opponents saying he has given up too much without first insisting on political reform on the island. The US president can continue to ease specific sanctions but the trade embargo against Cuba can only be overturned by the Republican-controlled Congress.