Hundreds of thousands take to the streets of Brazil to protest against Rousseff
Monday, April 13th 2015 - 09:08 UTC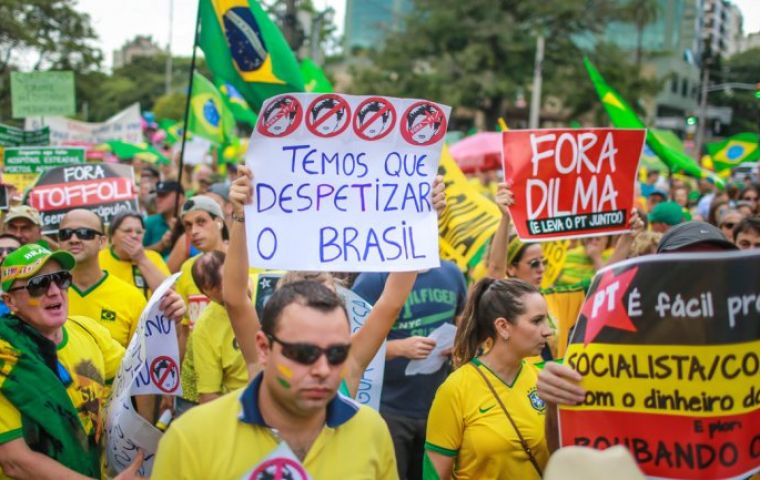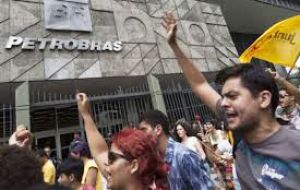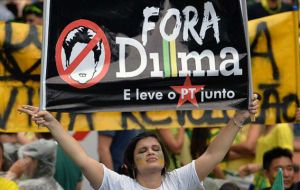 Hundreds of thousands of Brazilians took to the streets on Sunday, venting anger over government corruption and a souring economy a month after protests gathered more than a million people. With cries of "Dilma out" and "corrupt government," marchers -- many wearing the yellow and green jerseys of the national football team -- called for President Dilma Rousseff's ouster and an end to impunity for corruption.
Police put turnout at 682,000 people who marched in 195 cities, while organizers gave a total estimate of 1.5 million -- around half of them attending the largest gathering, in business center Sao Paulo.
Beyond the widening graft scandal at state-owned oil giant Petrobras, protesters also expressed displeasure over rising inflation and soaring utility bills. Those pocketbook issues -- as well as the perceived erosion of workers' rights -- have fueled growing opposition to the populist president, re-elected in October.
Rio hosted two modest protests at the tourist magnet of Copacabana beach, where media put participants at some 10,000.
But an afternoon march in business hub Sao Paulo drew a much larger crowd of about 275,000, according to police. Organizers however insisted on a turnout of 800.000 which would put the national total on par with last month's demonstrations.
In the capital Brasilia many protesters hung banners calling the ruling Workers Party corrupt and a few demanding the army to intervene.
Similar protests on March 15 brought out more than 1.7 million people, according to police, although pollsters Datafolha questioned a police figure of around a million in Sao Paulo figures as vastly inflated.
Public confidence in Brazil's political class has slumped with the detention or questioning of dozens of lawmakers and officials, including the treasurer of the ruling Workers Party over an alleged multibillion-dollar kickback scheme at Petrobras.
Rousseff is herself not under investigation, despite her former ties as president of Petrobras, but the widening probe has fingered a swath of her party colleagues and close allies.
A Datafolha poll out Saturday found that 63% of a 2,800-strong sample said Rousseff should personally be investigated but 64% said she would remain office even if under investigation.
Eight in 10 Brazilians said Rousseff was aware of the dealings at Petrobras, a claim she vehemently denies. Rousseff's popularity ratings have crashed below 20%, not just because of the Petrobras affair but also as a result of a staggering economy after four years of anemic growth.