Maximo Kirchner 'ripe' to run for an elected post, says Argentine cabinet chief
Wednesday, April 15th 2015 - 08:43 UTC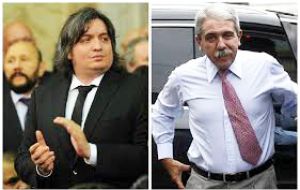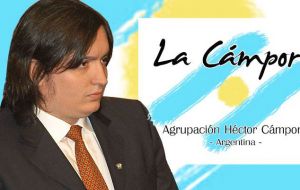 Argentina's cabinet chief Anibal Fernandez said on Tuesday he was convinced that Maximo Kirchner, the son of president Cristina Fernandez de Kirchner, would run for an elected post representing the province of Buenos Aires in the coming general elections of next October.
"He never said anything to me (about it) but I am convinced that Maximo (Kirchner) has brought off the difficulties. All the elements are ripe for him to be (a candidate in the province of Buenos Aires)," Fernández affirmed in his daily media round at Government House.
"If someone who proposed himself to create an organization, which is the most important and the one that has created mystique the most, does not have the right to be considered a candidate, then we are cooked," Fernández insisted in reference to La Campora youth grouping which has the president's son as the founder and organizer.
He added that Maximo Kirchner proved his political credentials as he addressed "40,000 youngsters watching him express a responsible political proposal," referring to the rally in the Argentinos Juniors football stadium the leader of the La Campora political organization headed back in September last year, his first public message ever.
That day, according to the cabinet chief, Maximo Kichner successfully hit back at those who "sought to attack and insult him in the most heinous way" so that "they did not speak anymore, I see him with all the strength to be a candidate".
A few weeks ago, Cristina Fernandez's son granted an interview to deny media versions that accused him of owning bank accounts in tax havens, and left the door open to a candidacy in the upcoming elections.
Maximo, 38, was born in La Plata, province of Buenos Aires but has spent most of his life in Rio Gallegos, province of Santa Cruz, which was the political turf of his parents. He dropped out from journalism and law school. But since the death of his father in 2010, he has become the closest and most trusted advisor of her mother and president of Argentina, Cristina Fernandez.