Appeals court dismisses Nisman's case against President Cristina Fernandez
Tuesday, April 21st 2015 - 08:00 UTC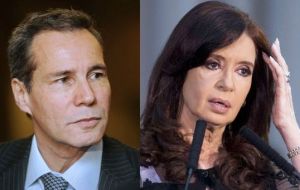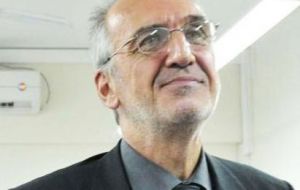 A Court of Cassations (Appeals) prosecutor on Monday refused to take on the criminal complaint formulated by late AMIA special prosecutor Alberto Nisman, in which he accused Argentine President Cristina Fernández and other government officials of covering up the identities of those responsible for the deadly bombing at the Jewish community centre.
Cassations Court prosecutor Javier De Luca dismissed the complaint, halting further investigation of the document, in which Nisman had claimed the President and Foreign minister Hector Timerman had attempted to conceal Iranian involvement in the attacks in return for trade advantages.
"I withdraw fundamentally from the case introduced by the colleague who came before me in the session, De Luca wrote in his recommendation, referring to the request tabled by prosecutor German Moldes which asked the appeals tribunal to hear the case.
"In this case, even if all the possible hypotheses are poured over, in the accusation, the requirements of instructions, the appeal and the cassation request, no crime to be investigated and demonstrated can be found," he added, explaining that the "the extensive and timely arguments of the first judge and the justices who formed the majority in the appeals court's decision have not been refuted."
"With every type of argument they have shown, in different ways, that there was no crime, neither planned nor carried out," De Luca concluded.
The chamber is Argentina's highest judicial authority for appeals, effectively leaving the criminal complaint composed by the former prosecutor in limbo. It has now been dismissed on no less than three instances.
De Luca said his decision was "equivalent to a definitive sentence," and is likely to mark the end of proceedings against the president. However there is another formal step before the Supreme Court.
Nisman was found dead in his apartment on January 18 with a bullet wound to the head, one day before he was scheduled to testify about his allegations to the Argentine parliament and four days after presenting his case against the Argentine president.
His death prompted mass protests and conspiracy theories involving President Fernandez. In February, hundreds of thousands of people protested in Buenos Aires to demand justice.
Fernandez has strongly denied Nisman's allegations and Iran has denied any involvement in the bombing. Nisman's death remains unsolved, and investigators say they are viewing the case as a possible homicide or suicide.
Nisman was named special prosecutor for the AMIA case, the Jewish association which suffered an attack that killed 85 people, injured 300 and remains unresolved since July 1994. Nisman had been ten years following the case.