Nisman's successor calls prosecutor who dismissed the case "a grave digger"
Wednesday, April 22nd 2015 - 06:25 UTC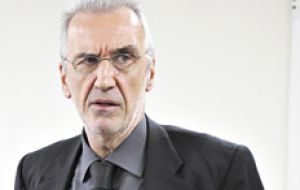 Argentine prosecutor German Moldes has blasted the decision of colleague Javier de Luca to dismiss in the Court of Cassation (Appeals) the cover-up accusation filed by late AMIA lead investigator Alberto Nisman, accusing the official of trying to bury the investigation against President Cristina Fernandez.
"I warned three weeks ago that there were delaying maneuvers in places, maneuvers which slowed down the filing in the Appeals Court in order to give [De Luca] time to enter," Moldes fired in a radio interview.
"It was already decided that he was going to put the final nail in the coffin. He was the grave-digger."
De Luca on Monday released a 27-page document explaining his reasons for dismissing Nisman's allegations, which accuse the Argentine president and other leading government figures of covering up the involvement of Iranian officials in the AMIA bombing of 1994 through the Memorandum of Understanding.
The prosecutor agreed with the rulings of judge Daniel Rafecas, who originally rejected the case and whose judgment was upheld in the Appeals Court by majority decision. Like his peers, De Luca held that there was no evidence of any crime being committed in Nisman's text, pointing out that Congress votes and international treaties could not be dubbed illegal.
But for Moldes, 'Legitimate Justice' member De Lucas had another agenda in dismissing the case.
"Legitimate Justice has one goal: securing impunity for officials accused of corruption," he raged, while calling the prosecutor's dismissal "a con".
"I was 100 percent sure this would happen, I had no doubt. You did not have to do more than look at how this group which wrongly carries the name Legitimate Justices conducts itself."
The allegations against Fernandez were originally leveled by prosecutor Alberto Nisman, who was found dead in his flat with a bullet wound to the head on Jan. 18 the day before he was due to testify about his accusations to parliament.
Nisman had accused Fernandez of trying to cover up allegations made in Argentina courts that Iran was involved in the bombing of the AMIA Jewish Community center in Buenos Aires in order to clinch a grains-for-oil deal with Tehran. Iran denies any involvement in the bombing.
Nisman's mysterious death spawned a slew of conspiracy theories, some involving President Cristina Fernandez.
Her government has sought to discredit Nisman. Last week it made accusations that Nisman received salary kick-backs from the IT specialist who had been working with him on his original investigation into the bombing.
Fernandez's cabinet chief said Nisman spent the embezzled money on champagne, women and lavish vacations. The accusation prompted outrage from the opposition, adding fuel to a scandal over Nisman's death that has rocked Argentina for three months.
The president on Sunday published a statement on her personal website in which she stated that Nisman had said hedge fund manager Paul Singer could help the Jewish community. Argentina has fought a long court battle with Singer over its defaulted debt and vilified hedge funds as "vultures."
On her website, Cristina Fernandez criticized Israeli policies on Iran. She also wrote, "For many of us, peace is the best tool to achieve greater global security. It's a shame that a powerful few have not yet understood that".