Sunken Russian fishing vessel found at a depth of 2,700m, off Gran Canaria
Thursday, April 23rd 2015 - 09:19 UTC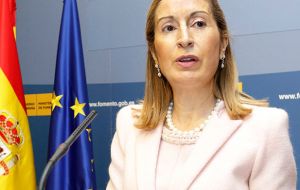 Russian flagged fishing vessel "Oleg Naydenov" was found by a remotely operated vehicle 15 miles south of Gran Canaria, at a depth of 2,700 meters, Minister of Development Ana Pastor Julian informed. At first, it had been reported that the ship, which sank last week, could be at about 2,400 meters deep.
Speaking to the press, the minister said that a submarine robot sent to investigate found that fuel keeps leaking from the vessel. "Now pictures will have to be taken to know the situation of the sunken fishing vessel in order to learn whether it has split or not and how many leaks there are".
So far, technicians have observed "an exit that is being tested", but still the amount of fuel that has been spilt in the water remains unknown, the agency Europa Press reported.
"The robot has not given any full report yet", it is in the diagnosis phase, added minister Pastor Julian.
At the moment, the Spanish Government maintains the following maritime rescue boats deployed: Luz de Mar and Miguel de Cervantes, Guardamar Talia, Salvamar Alpheratz as well as the tugboat Punta Salinas.
In addition, aircraft Salvamento Sasemar 101 and 305 are providing "permanent reports on the situation." The fuel slick is now at 197 kilometers off the coast of Gran Canaria.
The vessel caught fire while docked and went down on April 14th and has released 500 metric tons of oil, said Pedro Mederos, the official in charge of Las Palmas port.
The trawler Oleg Naydenov, was frequently denounced by Greenpeace for illegal fishing activities The 72 crew were rescued and Spanish port authorities decided to tow the ship out to sea at a point known by mariners and oceanographers for its depth (2,400 meters) and north-easterly winds and currents that wash objects south-west, out into the Atlantic Ocean.