Argentine economy picking up boosted by agriculture; manufacturing continues downfall
Saturday, April 25th 2015 - 05:41 UTC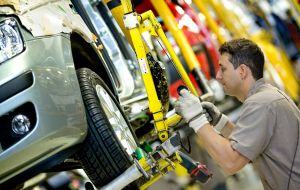 Economic activity in Argentina expanded 1.4% in February compared to the same month last year, boosted by the agricultural sector and a hike in consumption, making it the highest increase since January 2014, according to the latest release from the country's stats office, Indec.
However industrial production dropped 1.9% in March compared to the same month last year accumulating a 2% fall during the first three months of 2015, making it the index's 20th consecutive monthly decrease.
According to the Economic activity monthly index (EMAE), the production of goods and services increased 0.9% in February compared to the previous month, the best performance since April 2014.
As happened a year ago agriculture was the main boost for the EMAE increase, based on the fact that Argentina's Agriculture ministry is expecting a record crop of 116 million tons of grains and oil-seeds. Likewise wheat performed far better than forecasted: 13.9 million tons compared to the estimated 9 million tons. Soy beans are expected to reach a record 59 million tons and maize a record 30 million, plus 3.2 million tons of sunflower; 3.2 million tons of sorghum; 2.9 million tons of barley and 1.6 million tons of rice.
Regarding consumption, Indec numbers show that in February sales in pesos in supermarkets and shopping malls compared to a year ago increased 30%, boosted by credit programs.
This led Argentine Economy minister Axel Kicillof to brag that GDP would increase 2.8% this year, compared to 0.5% in 2014, and even the IMF is admitting this: "their October forecast for Argentina was minus 1% and now they have increased their estimate to minus 0.3%, but nevertheless they are wrong".
"This year we are expecting a reasonable 2.8% growth; at the end of last year we noticed that the 2014 fourth quarter was stronger than expected and the economy was beginning to roll again and prices experiencing a strong deceleration", said Kicillof.
But manufacturing was not that rosy. Indec showed contraction continued in March for the twentieth consecutive month, with a 0.6% fall compared to February.
The worst performance was from the auto industry, 10.1% down and 16.3% in the first quarter mainly because of the 80% collapse in exports to Brazil. The second worst performing industry was textiles, 11% in the month and 11.7% in the first quarter. Steel production was down 7.8% in March and the item food, 3.5%.
Eight out of eleven manufacturing sectors recorded were down with oil refining up 9.3% in the quarter on an annual base. In 2014, industrial production contracted 2.5% compared to 2013.