Malvinas' oil rig drilling 'technical problem' triggers strong concern release from Argentina
Saturday, April 25th 2015 - 06:19 UTC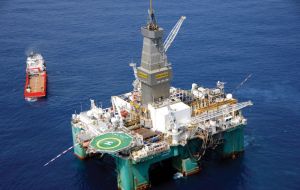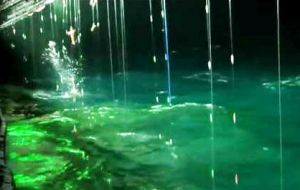 Argentina's Foreign Ministry expressed concerns on Friday over the failure in the blow-out preventer, BOP, valve of the "Isobel Deep" exploration well currently being drilled to the north of the Falklands/Malvinas Islands, as reported by Falkland Oil and Gas Limited (FOGL).
According to a statement released by FOGL, perforation by the Eirik Raude rig belonging to Ocean Rig Management, had to be suspended at 1,273.9 meters deep due to the malfunction of the blow-out preventer valve, which is essential to prevent any liquid leaks that could contaminate surrounding marine environment.
The Argentine Foreign Ministry under Hector Timerman stressed a similar failure caused the infamous environmental catastrophe of the Mexican Gulf.
The release goes on to recall that the semisubmersible rig Eirik Raude in November 2014 operating off South Africa, had to suspend activities because of 'mechanical problems' and likewise in 2005 three incidents were reported while in the Arctic, which caused great concern to Norwegian authorities.
Furthermore during the 'illegitimate' drilling campaign in 2012 on the continental shelf of the Malvinas Islands", the rig Leiv Eirikson also belonging to Ocean Rig experienced an incident at the mouth of a well but fortunately nothing happened since it proved a dry well.
The release points out that a major leak in the Malvinas area could have a significant impact on the surrounding ecosystem that could last for decades. The area is rich in sea birds and sea mammals, some internationally protected given the fragile and vulnerable conservation. Equally important the area is rich in commercial fisheries of squid and toothfish.
Argentina argues that test scenarios of oil spills in the area from the very companies currently involved at the north of the Falklands could reach the coasts of Malvinas and Tierra del Fuego.
Finally the release recalls that last 2 March Argentina strongly protested to the UK the beginning of drilling activities to the north of the Islands and on 9 March warned Ocean Rig to abstain from non authorized exploration and exploitation activities in "the Argentine continental shelf or face legal consequences".
Likewise last 9 April Argentina made a formal criminal presentation against Rockhopper Exploration, Premier Oil, Falkland Oil and Gas Ltd, Noble Energy and Edison International, and all their top staff for operations "without the Argentine Energy Secretary authorization".