Brazil's ruling party of Lula and Dilma 'stole too much' and its time 'is over'
Monday, April 27th 2015 - 22:40 UTC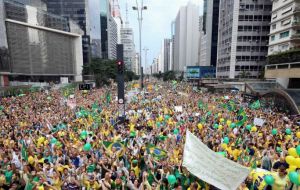 A close ally of Brazilian president Dilma Rousseff and currently part of her government's coalition said "too much stealing" by Lula da Silva's ruling Workers Party (PT) is responsible for the country's political crisis and public opinion disenchantment with politics.
"The Workers' Party of Lula and Dilma have stolen too much and their party's time is over", affirmed Carlos Lupi, a former Labor minister with ex-president Lula da Silva (2003/2010) and chairman of the Democratic Labor Party which is part of the current ruling coalition of president Rousseff.
Lupi as Labor minister was confirmed when Dilma Roussseff took office in 2011, but later resigned following corruption suspicions involving him and his party that were never confirmed.
According to O Estado de Sao Paulo, one of Brazil's most influential dailies, Lupi made the statements criticizing the Workers Party of Lula and Dilma, during a political rally of his own party.
"The PT is over. They didn't invent corruption but they stole too much, they exaggerated and their project became a project to remain in office" Lupi was quoted in reference to the current corruption scandal involving Brazil's main corporation Petrobras, which according to their own recent statements admitted to have lost over two billion dollars in kickbacks and graft in the last ten years.
Lupi added that the disenchantment that opinion polls show and have Rousseff with a 13% support, together with the recent massive protests when hundreds of thousands took to the streets of Brazilian cities are a strong message, and "the message is that society wants to be respected, they demand respect, and this must be understood by the PT and the government".
The former minister admitted that the PT administrations which took off in 2003 when Lula da Silva was inaugurated effectively signaled a strong social emphasis which helped millions out of poverty, offered better opportunities and higher incomes.
"That is true", said Lupi but the very programs that helped the lower classes to climb socially also created 'dependency' and today "there are people who don't want to work, they prefer to continue receiving government subsidies and handouts".
Lupi added that his criticisms are an alert to government, but does not mean his party has plans to abandon the government ruling coalition. "We're not like rats that abandon ship when she's making water. But neither to we want to be like the Titanic captain that went down with the vessel".