Chilean universities establish closer links with their UK counterparts
Friday, May 1st 2015 - 07:06 UTC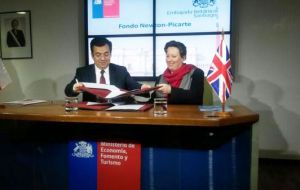 A group of the main Chilean universities travelled to the United Kingdom on an invitation from UK Universities, with the purpose of deepening links and greater opportunities for collaboration in areas such as research and innovation. This was a follow up mission to the 12 British universities that visited Chile last year to establish links with their counterparts.
The aims of the mission were to deepen collaboration in research and postgraduate teaching, given the greater opportunities for collaboration between British and Chilean universities in the context of the Newton-Picarte fund for science and innovation. This fund, established last year with the contribution of £12m from the British government, aims to support the economic development of Chile through funding collaborations between the two countries in research, innovation and capacity building.
The mission was coordinated by the British Embassy in Chile and included visits to the Universities of Imperial College, Kings, St Mary's, Goldsmiths, Nottingham, Warwick, Reading and Bristol. In addition, the group also took part in a seminar on 'innovation in doctoral training' with British counterparts. The Chilean universities that took part in the mission were: U. Catolica, U. Chile, U. Concepcion, U. Valparaiso, U. Catolica de Valparaiso, U. Austral, U. Catolica Santisima Concepcion, U. Catolica del Norte, U. Antofagasta, U. Bio Bio, U. Frontera, U. Magallanes and U. Talca.
Mal Green, Chargé d'affaires at the British Embassy Santiago said that it was great to have such a wide range of Chilean universities interested in developing their partnerships with UK universities.
"International partnerships are crucial for greater impact in research, innovation and teaching, and the UK is keen to develop such partnerships with Chile, including through our Newton-Picarte fund on science and innovation", underlined Mal Green.