Hung parliament and delicate coalition knitting forecasted for UK Thursday vote
Tuesday, May 5th 2015 - 09:01 UTC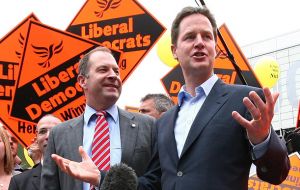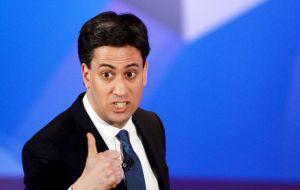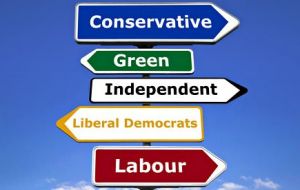 The Conservatives and Labor on Monday launched their final push to woo voters ahead of Britain's general election this week, as potential kingmaker parties made their pitch for power.
Conservative Prime Minister David Cameron and Labor opposition leader Ed Miliband kicked off the final three days of campaigning with stark messages to voters about the choice before them.
With polls showing the two main parties neck-and-neck and unlikely to win a majority in Thursday's vote, power will likely hinge on the performance of smaller parties such as the Scottish National Party (SNP) and the Liberal Democrats.
"It's the start of a week when Britain will decide its future. By Friday you'll either have Ed Miliband or me as your prime minister," Cameron said. "Your vote can and will make a difference. It's that's close."
He told voters: "We have got one big argument about the economy, about leadership, about security, that we guarantee -- and about the massive risk there would be of an Ed Miliband government propped up by the SNP."
Miliband said the election was a "clash of two visions" about wages, health and young people. He tried to hang the remaining election battle on contrasting plans for the state-funded National Health Service.
"In the final few days of this general election, the future of the NHS is at risk in the way it hasn't been for a generation," he said.
Miliband received a major boost when comedian and revolutionary activist Russell Brand dropped his anti-voting stance and endorsed Labor in a tweet to his 9.6 million followers. Following his interview with Miliband last week, Brand said he had become convinced Miliband would allow the building of "community-led activism".
"I think this bloke will listen to us," Brand told his followers in a YouTube video from his bed.
Labor also received backing on the campaign trail from celebrity chef Delia Smith and cross-dressing actor-comedian Eddie Izzard.
If Thursday's vote results in a hung parliament, it could trigger days, if not weeks, of tricky negotiations as political parties try to come up with an arrangement for forming a stable government. That could mean deals with smaller parties in exchange for agreeing to their manifesto pledges, or even coalition agreements.
The latest BBC poll of polls out Saturday gave the Conservatives 34% and Labor 33%; the populist UK Independence Party were on 14%; the Liberal Democrats, 8%; the Greens 5% and the others, 6%.
These figures would leave both major parties well short of winning the 326 seats needed for an absolute majority in parliament's lower House of Commons.
The Liberal Democrats, led by Deputy Prime Minister Nick Clegg, have spent the past five years as the junior partners to the Conservatives in the governing coalition. They are pitching themselves as mainstream potential coalition partners that would anchor either major party in the centre ground.
"The Liberal Democrats are now the only guarantors of stability in British politics today," Clegg said on the campaign trail.
"Despite whatever David Cameron and Ed Miliband might say bravely in public, they all know that they're actually not going to win a majority. So the question is... who's going to be there alongside them?"
Miliband has ruled out striking a formal coalition or deal with the left-wing secessionist SNP, who opinion polls predict will form the third-biggest bloc, perhaps even winning all 59 Scottish seats. But he refused to say Monday if Labor could form a legitimate government with fewer seats than the Conservatives.
SNP leader Nicola Sturgeon said the next government must reflect the whole of Britain if it is to be considered legitimate, and cannot "ignore" Scottish voices.
"Surely a test of legitimacy that should be applied... cannot simply be that it is the largest party in England," she said.