Brazilian leading bank prepares ahead of the country's 'steepest recession in two decades'
Wednesday, May 6th 2015 - 07:16 UTC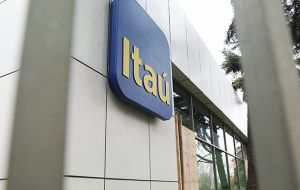 Itaú Unibanco Holding SA, one of Brazil's strongest and leading banking groups is provisioning more for loan losses and curbing loan book growth in a bet that careful risk management will help the bank navigate the country's steepest recession in over two decades.
Even after posting stronger-than-expected first-quarter profit, Itaú felt the pinch of a shrinking economy as provisions soared in the wake of a jump in defaults from large corporate borrowers.
Chief Executive Officer Roberto Setubal cut expenses and set aside more profit to help cover problematic loans in the future. The tougher outlook for Brazil, whose economy may shrink this year at the steepest pace since 1992, led Itaú to revise some operational estimates "to the downside," said Marcelo Kopel, the bank's head of investor relations.
Itaú cut its loan book growth outlook while increasing loan-loss provision expenses this year by an average 22.5% to a range between 15 billion and 18 billion Reais. Shares fell 0.7% on Tuesday, reflecting concern about some of those trends.
Last week, private-sector rivals Banco Santander Brasil SA and Banco Bradesco SA said they expect provisions to remain relatively stable through year-end. Part of the 46% surge in gross provisions at Itau last quarter took place following a reclassification of riskier corporate borrowers.
Itaú's coverage ratio, or the measure of reserves for bad loans, rose to 200% in the quarter, underscoring Setubal's penchant for prudent risk management. Strict credit risk controls drove loan delinquencies down to a record low 3%, the 11th consecutive quarterly decline.
Interest income was propelled by surging income from trading, while net interest margin, the average interest charged on loans, slipped amid declining demand for credit. Gross loan-loss provisions climbed after loan renegotiations fell to their lowest since at least 2011.