Argentine Justice shrugs off impeachment threat: "I'm used to this kind of attacks"
Thursday, May 7th 2015 - 07:05 UTC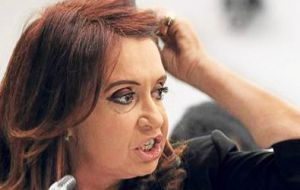 Argentina's Justice Carlos Fayt, the oldest member of the Supreme Court (97) and questioned by the government of president Cristina Fernandez, which demands evidence of his health and mental conditions, has said through his lawyer, Jorge Rizzo that he is not concerned about a possible impeachment hearing raised against him, since 'he is used to this kind of attacks'.
"There are no grounds to remove Judge Fayt from his post, and he described the impeachment requests as just another attack against him that he is used to", said attorney Rizzo.
"He will resist all the attacks on his post and is doing the best he can at this time," emphasized Rizzo pointing out that Fayt was in "good spirits," and thanked the support he had received through social networks, but ruled out the possibility of the justice speaking publicly in the coming days.
The veteran judge was wrapped up in controversy after the Supreme Court took the decision to re-elect Ricardo Lorenzetti as Chief Justice of the institution. Certain sources doubt the presence of Fayt in that meeting, despite which his name is recorded in the minutes.
In effect last 21 April, Fayt signed the Lorenzetti re-election document at his home, not at the Supreme Court and thus admitted there was a 'draft error' according to court sources, since it figured as if he had been present. On that same occasion the Court rejected the naming of magistrates approved by the government's simple majority in the Senate. The Court argued that a special majority is needed for such nominations.
Both incidents triggered fury from president Cristina Fernandez in her ongoing dispute with the Judiciary, which crystallized with a congressional impeachment initiative and the ever present vocal aggressiveness of her loyal cabinet chief Anibal Fernandez.
On Tuesday the president's Victory Front group lawmaker Anabel Fernández Sagasti took over as new president of the Impeachment Committee in the Lower House, and implemented the first steps towards eventually removing Fayt from the Supreme Court.
The magistrate has been part of the Supreme Court for over 30 years, having taken the bench in 1983. He is considered one of the most learned authors in Argentina law.
And on Wednesday morning Cabinet Chief Anibal Fernández considered SC Justice Fayt should hold a press conference in order to dispel doubts about his health condition.
"Why doesn't he receive the media and carry out a normal life for a day?" the head of ministers said on Wednesday upon his arrival to the government house and urged 97-year-ol Fayt to "come out to the door of his house to talk, as he used to do in another time."
"That way we would clear the doubt about how his physical and mental situation is and we would all be calm and happy (knowing) he is fine, because in the end nobody wants him to be in bad shape," Fernández told reporters.
According to the cabinet chief, a press conference could "prove if a Mr. Fayt can fend for himself and if, facing the interrogation, he can at least answer the minimum questions they (reporters) will make him because what is said is that he is not ok."