Uruguay's economy 'strong enough' to navigate in challenging environments
Thursday, May 7th 2015 - 06:01 UTC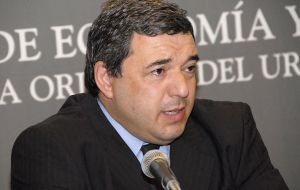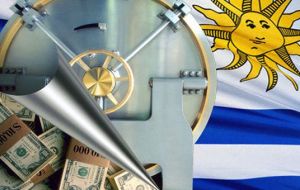 Uruguay's economy is "strong enough to navigate in a challenging global and regional environment" in which the U.S. dollar is strong and inflation is starting to rise, Uruguayan Central Bank, (BCU), chairman Mario Bergara said during a conference in Montevideo where he discussed the central bank's mission in the current world environment.
The BCU's current reserves "provide many guarantees and reassurance in a context in which Uruguay's country risk remains at very healthy levels," the central bank chief said.
"The external landscape keeps changing and requires attention, but we think we have a strong platform to navigate the volatility and changing international environment reasonably well," the BCU chairman said.
The "challenging" global and regional context includes a recovering U.S. economy with a stronger dollar, and a "lethargic" European Union "rife with financial and political strains," the monetary official said.
There is also a "slowdown" in China, while Uruguay's neighbors - Argentina and Brazil - are experiencing an "economic cooling," Bergara said.
"In this context, the Uruguayan economy has continued growing at lower but still good rates," he said. "At the end of 2014, growth was at 3.5% and for this year we have a reasonable expectation of more growth."
Some 90% of Uruguay's opinion leaders view the BCU "not just as a good regulator and supervisor," but also as an essential participant "in the construction of a stable and solvent financial system," Bergara said.
A central bank's reputation and credibility are essential because its actions are perceived in a different way if the institution is credible, transparent and sound, the BCU chief said.
"The BCU's credibility today reassures us when we set monetary policy and the time comes to take financial regulatory measures," Bergara said.