IAATO agrees to ban recreational use of UAVs in Antarctica's coastal areas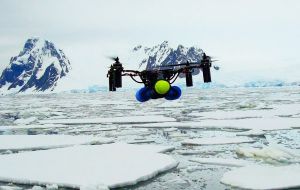 International Association of Antarctica Tour Operators (IAATO) members have agreed that, for the 2015-16 season, they will not allow the recreational use of Unmanned Aerial Vehicles (UAVs) in the unique, and often wildlife rich, coastal areas of Antarctica.
Recognizing the value of UAVs for research and certain commercial uses, such as documentary filmmaking, the intent is to ensure that their use is contained and carefully controlled.
The ban will be reviewed next year to allow for potential technological advances and further developments within the regulatory community.
The agreement was made at IAATO's 26th Annual Meeting in Rotterdam, the Netherlands, 28 to 30 April 2015. Other significant outcomes included the formation of a new Fly/Cruise Working Group to lead discussions on effectively managing this young and growing area of the Antarctic tourism sector. The Working Group will also discuss and develop industry best practices to improve coordination and add to IAATO's existing procedures that promote safe and environmentally responsible member activities in Antarctica.
Over 130 people attended IAATO's largest meeting to date, representing member companies, governments, charitable trusts and others with a vested interest in Antarctica's future. Mr. Simon Smits, Director General for Foreign Economic Relations at the Ministry of Foreign Affairs of the Netherlands, addressed the meeting prior to IAATO's Annual Dinner, noting the important role of IAATO in protecting Antarctica for future generations and the value of cooperation between the Association and members of the Antarctic Treaty.
Other meeting highlights included:
Guidelines Review: New sea kayaking and underwater activity guidelines were adopted to complement IAATO's other activity specific and wildlife watching guidelines and standard operating procedures.
New Working Groups: IAATO establishes Working Groups to deliver specific tasks or explore particular issues. In addition to establishing a new Fly/Cruise (*) Working Group, an Education and Outreach Working Group was also approved to build on IAATO's education and outreach efforts and help deliver the Association's aspirations outlined in its new Communications Strategy.
Growing membership; IAATO's membership grew during the past year to 126. Former Associate members, Fathom Expeditions, Grand Circle, Grands Espaces and Anna Margaretha were voted in as full Members at the meeting. Quixote Expeditions and Expedition Voyage Consultants joined the ranks of IAATO as Associate and Affiliate members respectively.
Polar Code: An update on the International Maritime Organization's Polar Code was given, including how IAATO was involved in the development process. In preparation for the expected entry into force of the Code in 2017, IAATO will hold a workshop, Towards Polar Code Ready, for IAATO vessel operators, in June this year.
Executive Committee; Members voted to appoint Bob Simpson, from Abercrombie and Kent, USA, as the new Chair of the Executive Committee who succeeds Marlynda Elstgeest of Waterproof Expeditions. Ms Elstgeest remains on the Committee along with Rich Pruitt of Royal Caribbean Cruises Ltd, Skip Novak of Pelagic Expeditions and Isabelle Vareille of Ponant Yacht Cruises and Expeditions. Prash Karnik of Seabourn was welcomed onto the Committee for the first time.
Bob Simpson, new Chair of IAATO's Executive Committee said, 'IAATO meetings are remarkable in that its members, many of whom are competitors in the business world, can sit down together and constructively discuss how to manage their activities in a way that will have no more than a minor or transitory impact on the Antarctic environment. It's a challenge embraced by all members.'
(*) Fly/Cruise tourism involves flying visitors from South America to the Northern Antarctic Peninsula where they immediately board an expedition cruise ship.