Cristina Fernandez comes out strongly in defense of minister Kicillof
Friday, May 15th 2015 - 07:15 UTC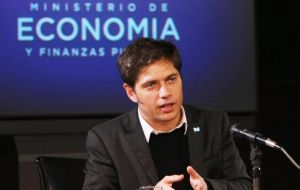 President Cristina Fernandez has questioned accusations against Economy Minister Axel Kicillof over his alleged YPF monthly salary of 400.000 Argentine Pesos (approx 35.000 dollars).
The Argentine leader made the statements during a political tour of Patagonia inaugurating several public works completed with federal monies.
"The Minister could earn that amount as YPF director and it would be legal, but he does not do so due to ethical reasons. They [media outlets] knew this, because in order to know that fact one has only got to call YPF or take a look at Kicillof's affidavit," the Argentine President said during a nationwide televised broadcast from Patagonia's Río Negro province.
On Thursday, the Clarin media group and other media outlets reproduced an article that claimed Kicillof's salary as YPF director was 400.000 Pesos. The Economy Ministry strongly denied those accusations in a press release signed by Kicillof, who revealed he has been working ad-honorem for the petroleum company since 2012.
"Since 5 in the morning today till 7 pm media has been lying to the people about this. They are not naïve, I know what they want: they try to poison people, to instill hate in times of salary negotiations between workers unions and business representatives," President Cristina Fernandez said.
The head of state added opposition media concentrates on an attack against Minister Kicillof because 'he cannot be bought'.
The Argentine president was on a political tour inaugurating a building for the Alto Valle Río Negro University; announced the opening of the Technological Scientific Centre (CCT) of Conicet Patagonia and unveiled a new railway service in Vaca Muerta that will help YPF reduce transport costs.
The official delegation that accompanied the president included Interior and Transport Minister Florencio Randazzo who is also a Victory Front (FpV) presidential hopeful.