Petrobras production from pre-salt fields reaches milestone 800.000 bpd
Friday, May 15th 2015 - 07:32 UTC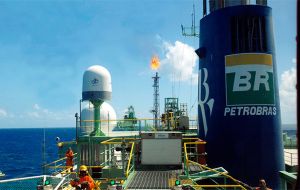 Brazil's Petrobras said that oil production in Santos and Campos basin pre-salt fields reached a milestone production volume of 800Mbbl/d. The volume was recorded on April 11, with 74% (590Mbbl/d) Petrobras' share with the remainder belonging to partner companies working in different pre-salt areas.
The milestone was reached using 39 production wells, 20 of which are in the Santos Basin, which accounts for 64% of the output—511Mbbl/d—while the other 19 wells in the Campos Basin account for 36% of the output –291Mbbl/d.
On the day the record was achieved, 11 definitive production systems and one early production system were operating, and seven were exclusively producing oil from the pre-salt.
The early production system's startup using a dynamic producer platform ship in the Buzios Field's Cessao Onerosa area in March aided the milestone pre-salt production, Petrobras said. The pre-salt production was also supported by the startup of platform P-20 in the Marlim Field's pre-salt layer in the Campos Basin.
The 800Mbbl/d output was reached just eight years after first oil was discovered in the pre-salt layer in 2006, Petrobras said. This took less time than it did to meet the same output level in other offshore areas, the company added, noting it took Petrobras 40 years and 6,374 wells to reach 800Mbbl/d throughout Brazil. The same output level was reached in the Campos Basin after 24 years and 423 wells.