The project of a trans-continental railway, Atlantic to Pacific, with Chinese funds
Friday, May 15th 2015 - 07:38 UTC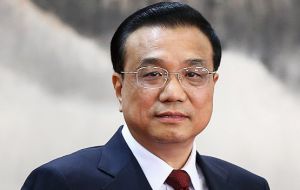 Peru, Brazil and China are moving forward on a transcontinental railway that will cut across the continent, climb the Andes and connect port cities in the Pacific and Atlantic coasts.
The 10bn dollar mega project is expected to be formalized during a four-country Latin American tour by Chinese Premier Li Keqiang. The railway is expected to slash the cost of exporting commodities from Brazil to China.
Brazilian grains and oilseeds are a top item on China's wish list, as are iron and other raw minerals. Agricultural goods like corn and soy currently leave Brazil by sea and have to overcome the South American 'barrier' in their trip to the Pacific and Chinese ports. An overland route would shave off a few days from the trip, and lower transport costs.
Technical studies of Peruvian railways are just getting started but those from the Brazilian government indicate a transcontinental railway is likely to stretch from Port De Açu, in Rio de Janiero, through the agricultural heartland of Mato Grosso, and on to Porto Velho near the Peruvian border. Future studies will determine the route through Peru, but it safe to say that the rail would cross the Andes and end in one of the larger port cities like Callao, Mollendo, or Llo Arica.
China has become the top trading partner of Brazil and Peru, overtaking the US in 2009 and 2014, respectively. It's also a top consumer of Venezuelan oil and a top lender to the Venezuelan government. Besides Brazil and Peru, Premier Li Keqiang will travel to Colombia, to discuss more infrastructure projects, and to Chile, where China has significant interests in its huge copper imports.