Canadian tobacco companies ordered to pay 12bn dollars for failing to warn health risks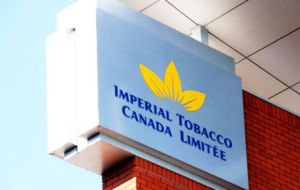 A Canadian court has ordered three tobacco companies to pay 15.5bn Canadian dollars ($12bn), the largest award for damages in the country's history. The plaintiffs were Quebec smokers who said the firms failed to warn them of health risks associated with smoking.
Imperial Tobacco, Rothmans Benson & Hedges and JTI-MacDonald vowed to appeal against the decision. The class-action lawsuits were filed in 1998, but only recently went to trial.
The firms argued that Canadians have had a "high awareness" of smoking health risks since the 1950s.
"That awareness has been reinforced by the health warnings printed on every legal cigarette package for more than 40 years," JTI-Macdonald said in a statement.
But the plaintiffs argued that the companies did not properly warn their customers and failed in their general duty "not to cause injury to another person", according to the Quebec Superior Court decision.
They represent nearly one million smokers who were unable to quit or who suffer from throat or lung cancer, or emphysema.
In related news public smoking in China's capital, Beijing, is now banned after the introduction of a new law. China has over 300 million smokers and more than a million Chinese die from smoking-related illnesses every year.
Smoking bans already existed in China, but have largely failed to crack down on the habit. These tougher regulations, enforced by thousands of inspectors, ban lighting up in restaurants, offices and on public transport in Beijing.
On the first day of the ban, a hotpot restaurant in Beijing became the first venue to receive an official warning. Inspectors found cigarette butts inside the restaurant, which had also failed to promote a smoking complaint hotline.
Ministry of Health guidelines published in 2011 banned smoking in all public spaces nationwide such as hotels and restaurants. The rules were vague, however, and often flouted by Chinese smokers who are accustomed to lighting up at will.
The new rules were agreed by lawmakers in November 2014 but only came into effect on 1 June. Under the legislation lawbreakers in Beijing will be fined 200 Yuan ($32) and businesses that turn a blind eye could be fined up to 10,000 Yuan.