Cristina Fernandez and her grouping lead comfortably ahead of elections
Thursday, June 4th 2015 - 08:30 UTC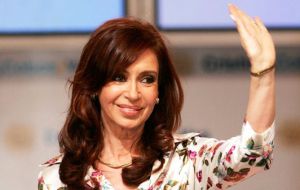 Argentine president Cristina Fernández will end her second term with an approval rating of 60%, according to the Equist political consultancy firm. On the other hand, PRO presidential candidate and Buenos Aires City Mayor Mauricio Macri enjoys a positive image among 30% of the country's population.
"Macri needs to resolve the opposition's fragmentation, while the FpV should finally reach a 40% rating, unless it does a terrible job of handling the last part of the president's term," said López in an interview with a Buenos Aires radio station.
He explained that the Victory Front had maintained its numbers above a 30% floor since the 2009 elections.
"Néstor Kirchner had a 32.7% approval rating at a national level while in the midst of the economic crisis, with a falling GDP, the loss of jobs, the failed income tax modification law and all the media criticizing the government," said the political analyst. He recalled that in the 2011 and 2013 elections, the second biggest political force only managed to receive 16% of the vote— such a low voter count for a second-place party had never been seen before in Argentine history, claimed López.
Along this line, the political analyst claimed that the ruling party has a political force that rallies its base well, and that both FpV party and opposition political consultancy firms agree that president Cristina Fernandez' approval rating has gradually increased even though she isn't a presidential candidate.
He argued that because of this reason Argentine opposition political parties will have to walk a fine line, "the construction of the opposition political force will have to be very solid because with only 40 percentage points, the FpV will have more than 10 percentage points than the opposition, allowing it to win in the first round."
The political analyst also estimated that 20% of eligible voters would choose their candidates based on the current socio-economic situation, which he considered to be "more than favorable" in Argentina.
López highlighted that the construction sector was growing and that according to economic consultancy firm Adeba, inflation was slowing while recently agreed to wage hikes with labor unions were allowing workers to recover their purchasing power.
"Social redistribution policies have led to the transfer of revenue via pensions and social welfare programs," underlined pollster López.