Falklands oil companies planning to continue drilling into next year
Saturday, June 6th 2015 - 09:46 UTC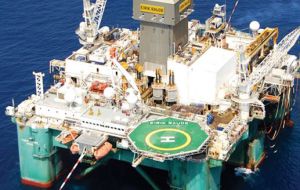 Falkland Oil and Gas plans to continue drilling into next year, its chief executive said, defying legal threats made by the Argentine government against oil explorers in the Falkland Islands.
A group of oil drillers, which also include Premier Oil, Edison, Noble and Rockhopper, resumed their Falkland Islands exploration campaign in March and have made a series of successful finds since.
However, their drilling work has angered Argentina, which continues to dispute the sovereignty of the islands and launched a domestic court case in April against executives of the companies involved.
"I can't go to Argentina and nearby countries. But operationally, this has no effect," Tim Bushell, Falkland Oil and Gas chief executive, said.
"The Hydrocarbons Law enacted by the government of Argentina does not apply to the Falkland Islands or its surrounding waters, and is therefore unlawful," FOGL said in a statement.
The company added it had not received any written notification or legal documents from the Argentina government with respect to any intention to take legal action.
The companies are continuing their 2015 exploration campaign as planned and are counting on hiring a drilling rig at lower rates to expand their plans into next year.
"We'll negotiate a lower rate with the rig and other services. We conservatively expect to get a 20/25% reduction, Bushell told Reuters".
The group has currently contracted the Eirik Raude drilling rig for a six-well drilling campaign that is expected to end around October and has been successful with oil discoveries in the first two wells, Zebedee and Isobel Deep.
The oil driller also said that Chairman Richard Liddell would step down from the board and be replaced by John Martin, currently non-executive director of Total E&P UK.
Meanwhile form New York, Goldman Sachs said in a release that shale oil producers, benefiting from lower costs, are expected to ramp up drilling activity if the price of U.S. oil stays near $60 a barrel.
"We believe that should West Texas Intermediate prices remain near $60 a barrel, U.S. producers will ramp up activity, given improved returns, with costs down by at least 20%" analysts at Goldman Sachs said in a report.
U.S. drillers cut the number of rigs by just one last week, data from oil services firm Baker Hughes Inc showed, signaling that higher crude prices may be starting to steady the sector after 24 straight weeks of drill rig declines.
"Last week's rig count is a first sign of this response and suggests that producers are increasingly comfortable," the Goldman Sachs analysts said.