Democrats strike stunning blow to President Obama's free-trade agenda
Saturday, June 13th 2015 - 07:34 UTC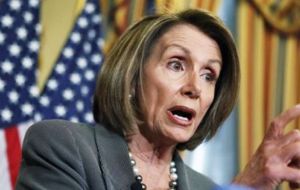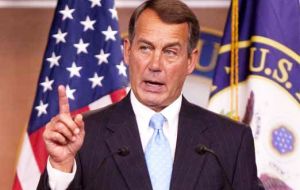 The U.S. House of Representatives on Friday dealt a stunning blow to President Barack Obama's free-trade agenda. A large number of Democrats in the House defied their fellow Democratic president to defeat a critical part of a legislative package, Trade Adjustment Assistance (TAA), which would have provided aid to US workers who might lose their jobs if a major Asia-Pacific trade agreement is forged.
Early Friday, Obama raised the stakes for House votes on TAA and Trade Promotion Authority, coming to the U.S. Capitol to huddle behind closed doors with House Democrats and ask for their support. This was after the president had surprised many by coming out to socialize with lawmakers at their annual congressional baseball game Thursday evening.
The fun and games were over on the House floor Friday. Republican Speaker John Boehner also pleaded with members to support the so-called fast-track trade authority.
"When America leads, the world is safer — for freedom and for free enterprise," he said. "And when we don't lead, we're allowing, and frankly, essentially inviting China to go right on setting the rules of the world economy. And what that does is keep our workers and our products on the sideline."
Most Republicans support free-trade agreements and therefore agreed with Obama, whom they oppose on most issues. But some tea party Republicans opposed giving the president more power to negotiate trade agreements, and were aligned with progressive Democrats on this issue.
A broad coalition of labor unions, environmentalists and others had pushed hard against the trade agenda for months, with some Democrats saying Obama had failed to convince them.
In the House chamber, all eyes were on Democratic Minority Leader Nancy Pelosi, one of the president's closest allies, to see how she would vote. She may have dealt the vote a fatal blow.
She said she would be voting "to slow down the fast track to get a better deal for the American people — bigger paychecks, better infrastructure, [to] help the American people fulfill the American dream."
Pelosi said later in a statement that it was time for both parties to negotiate a deal that would provide "stronger protections for congressional priorities — especially labor rights and the environment."
The vote on Trade Adjustment Assistance, to protect American workers, failed by a large margin. Such programs are usually supported more by Democrats than Republicans, but many Democrats said rejecting the initiative was the best way to kill the entire trade deal.
The TAA vote then made another vote on Trade Promotion Authority meaningless.
Claude Barfield of the American Enterprise Institute called the results damaging to Obama's presidency.
"The president has made this his major goal for his second administration," Barfield said. "He's actually gone all out in terms of lobbying for the bill — some things he has never done before."
Analysts said the president's visit to the House just hours ahead of the vote was a risky and highly unusual gesture, but Barfield said the defeat was more than just a serious blow to the president: "It would be seen as a setback for the United States' ability to lead, certainly in Asia, and also later in Europe."
Republican leaders pledged to try to hold another trade vote next week, saying it was disappointing that so many Democrats had voted against the legislation, but that the fight was not over yet.
Refusal to grant the negotiating authority would have made it much more difficult for the Obama administration to secure the TPP deal, which is already years behind schedule. As a result, Obama spent significant political capital on the TPA issue.
The countries negotiating the TPP are the U.S., Vietnam, Singapore, Peru, New Zealand, Mexico, Malaysia, Japan, Chile, Canada, Brunei and Australia. The U.S.-led pact aims to cover nearly 40% of global economic output when completed.