OAS assembly approves Convention on the Rights of Older Peoples
Tuesday, June 16th 2015 - 05:23 UTC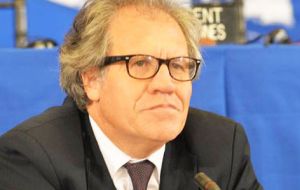 The 45th General Assembly of the Organization of American States (OAS), meeting in Washington, took a step on Monday toward the modernization of the hemispheric institution, expressed support for the Rule of Law in Guatemala, and approved the Convention on the Rights of Older Persons.
On its first day of sessions, the Assembly approved the resolution on "Modernization and Reorganization of the General Secretariat in Accordance with the Strategic Vision for the Organization and for Strengthening the Inter-American System," which will allow the Secretary General, Luis Almagro to take the first steps in the revitalization of the Organization.
"We want an OAS that functions efficiently on two levels of action, and that this benefits all the member countries and their citizens directly," said Secretary General Almagro.
On another issue, the Assembly approved a resolution presented by Argentina in support of the constitutional government of Guatemala and the "realization of general elections in 2015," convened by the Supreme Electoral Tribunal of Guatemala on September 6.
The resolution expresses its rejection of "any threat of breakdown in the constitutional order" and reiterates "support for the Government and people of Guatemala in their efforts to strengthen the rule of law and preserve the democratic institutional system."
In addition the Assembly approved the Inter-American Convention on Protecting the Human Rights of Older Persons. In this way, the hemispheric institution now has a legally binding regional instrument that protects the human rights of older persons and inspires an active aging process in all environments.
The initiative once approved was immediately signed by the representatives from Argentina, Brazil, Chile, Costa Rica and Uruguay. The convention promotes, protects and ensures the acknowledgement and full enjoyment, in equal conditions, of all human rights and fundamental liberties of older people so that they can be fully included, integrate and participate in the community.
"This is a major step forward for us. Our motto, 'more rights for more people' is the essence of the convention's logic and reaffirms the hemispheric dimension of our task which is to ensure the rights of old people taking into account their needs", said Almagro.
Currently the 60-years and older represent 14% of the Americas population (135 million), but by 2030 will be close to two out of three persons, in the range of 215 million people.