Punta Arenas rescues semi-submersible rig stranded in the port's muddy bottom
Thursday, June 18th 2015 - 06:34 UTC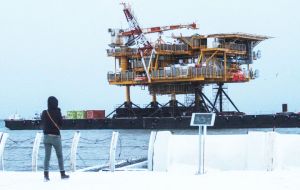 A semi-submersible rig of Chinese origin commissioned to Total and which grounded 200 meters from the coast in Punta Arenas following strong winds and tides that let it lose from its moorings in the port, has been rescued on the high tide. Apparently the huge vessel has not suffered major 'visible damages', reports La Prensa Austral.
"We were confident that with a 5 to 6 high meters tide the vessel would achieve a good floating and stability degree, which would enable us to begin pulling her out", said Punta Arenas port captain, Cristian Martis.
Despite no visible damages since the Zhen Hua 28 was stuck in a sand and muddy bottom, probably up to four meters deep, "a protocol inspection was needed and to verify the flat side of the hull has not suffered"
Captain Martis said that "despite the impact because of its size, risk was under control since she carried no fuel and only had water ballast which helped when the rescue operation".
Hong Kong flagged Zhen Hua 28, with a net displacement of 12.000 net tons and 232 meters long, arrived in Punta Arenas last 25 April. She was carrying two huge structures for the Vega Pleyade platform, which operates for French Total and is located approximately 80 kilometers from the Argentine Tierra del Fuego coast.
According to La Prensa Austral, Total is scheduled to begin drilling for gas from the Vega Pleyade rig, and should be producing sufficient volumes next year.