Switzerland pulling the noose: evidence of 53 FIFA suspicious banking reports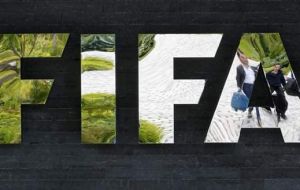 Swiss authorities say they have evidence of 53 suspicious FIFA-linked banking relations reported by Swiss banks. Under the Anti-Money-Laundering Framework of Switzerland, banks are required to report any suspicious activity that happens within their accounts. Some of the 53 suspicious reports are among 104 banking relations already known by the investigators.
Switzerland's attorney general Michael Lauber is leading the investigation into criminal mismanagement and money laundering within FIFA, particularly concerning the allocation of the 2018 and 2022 World Cups to Russia and Qatar.
Speaking to the press for the first time on Wednesday, Lauber revealed the criminal investigation against persons unknown was launched on March 10 in wake of the Garcia Report by former FIFA ethics prosecutor Michael Garcia and a mutual legal request from the United States Department of Justice.
Lauber said it is legal protocol in Switzerland to not release any details of an ongoing investigation, including when it begins unless there is an overriding public interest.
"I am well aware of the enormous public interest in our investigation. Equally enormous is the public interest in an independent criminal procedure ... The world of football needs to be patient," Lauber said in a statement.
As a result of this interest, Lauber gave information regarding the size and complexity of this case to the public in a statement from his Office of the Attorney General followed by a press conference, yet no names of anyone implicated in the investigation have been released.
The attorney general said his tailor-maid task force seized nine terabytes of data from their raids at FIFA headquarters and a luxury hotel in Zurich on May 27.
Lauber says that providing a timetable for the investigation to be completed would be unprofessional and says it will not end quickly. "By its nature, this investigation will take more than the legendary 90 minutes."
Although no one has been named in the investigation, Lauber says there will be formal interviews of all relevant people, possibly including resigning FIFA president Sepp Blatter and secretary general Jerome Valcke.
Unlike the Garcia report conducted by the former FIFA ethics prosecutor, the attorney general has coercive powers to make people meet and speak with investigators.
Lauber also confirmed that if any criminal wrongdoing is found to have led to the allocation of the next two editions of the World Cup, Russia and Qatar could be stripped of their rights to host the event.