Cristina Fernandez confirms Scioli; sponsors three candidates for Buenos Aires province governor
Friday, June 19th 2015 - 06:13 UTC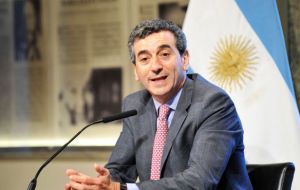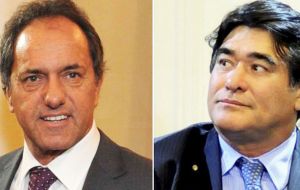 In a display of her political standing, Argentine president Cristina Fernandez confirmed Daniel Scioli as her Victory Font's grouping presidential candidate forcing the other hopeful, whom she had also encouraged, Interior and Transport Minister Florencio Randazzo to step down from his candidacy.
Randazzo was given the option of running for Buenos Aires province governor, Argentina's main electoral district which virtually decides national elections. However in a letter addressed to Cristina Fernandez on Wednesday and released on Thursday, the minister said he approves the decision by the president to take only one Victory Front (FpV) party ticket to the August primaries.
"Make no mistake. I support all of Cristina's decisions. She leads this project and I will remain part of this project," Randazzo said in his Twitter account. In the letter he expresses total allegiance and commitment to the president and her 'project'.
With the message, the Interior and Transport Minister discarded allegations that he had challenged Cristina Fernandez on her decisions. Earlier in the week Scioli forced Randazzo's knock out when he announced he had chosen to complete the presidential ticket, Carlos Zannini, Cristina Fernandez closest advisor and confident, after her son Maximo.
Zannini is the Executive's Legal and Technical Secretary, (the man who drafts the bills sent to Congress), and has been a long friend of the Kirchner family since he arrived in Santa Cruz over thirty years ago. He was also a close advisor of Nestor Kirchner, and is one of the few cabinet members to hold his post since the couple arrived in the Casa Rosada.
Randazzo had sought to beat BA province Governor Daniel Scioli in the national PASO presidential primaries, but on Wednesday he met with Cristina Fernandez in Olivos and on Thursday, Cabinet Chief Aníbal Fernández confirmed the Minister will not be running for president.
Fernández also said Randazzo declined to run for BA province governor, he will nevertheless continue being Interior and Transport Minister. He underlined that the longest lasting Interior minister in the post, carries out a "successful and efficient task" highlighting also the "respect he has earned" at the front of the Interior and Transport office.
Thus, the only FpV presidential ticket will be headed BA province Governor Daniel Scioli, with Technical Secretary Carlos Zannini as vice president hopeful.
Randazzo was embarked on a strong campaign with much media exposure, and presidential support, since as transport minister he was in charge of modernizing and renewing Buenos Aires chaotic urban and suburban trains with Chinese wagons generously funded by Beijing loans. Inaugurations had become almost a weekly event.
With Randazzo declining to run for Buenos Aires province governor, the competition has been shortlisted to Mayor of La Matanza, Fernando Espinoza, the head of the FpV caucus in the Lower House Julián Domínguez and Cabinet Chief Anibal Fernandez. They will be running for the governor candidacy in the Victory Front PASO primaries.
Aníbal Fernández confirmed that the three FpV representatives met with President Cristina Fernández on Thursday to discuss the primary elections.
They have up until Saturday midnight to choose their respective deputy governor hopefuls. "We three have a lot to give, it will be a good race," said Aníbal Fernández after making the announcement during a press conference held at Government's House.
Fernández also said that other FpV representatives that wish to take part in the Buenos Aires province PASO or in the national presidential PASO elections have until Saturday to present their candidacies.