New antiaircraft missile test in Falklands, on fears of "more Argentine aggression"
Monday, June 22nd 2015 - 06:16 UTC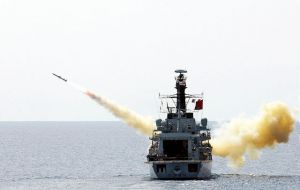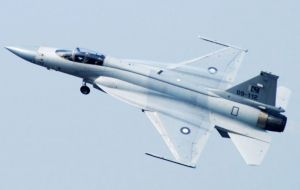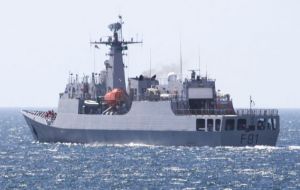 The Sunday Express has revealed that a live-fire training exercise will be taking place in the Falkland Islands with the participation of Royal Marines deploying high velocity missiles against "incoming attack aircraft" with the purpose of demonstrating combat capacity and to show that the UK can deploy high readiness troops.
The piece by Defense Editor Marco Giannangeli under the heading of "UK troops in anti-aircraft test amid more Argentine aggression" says that the British made HMV missile can travel at three times the speed of sound within a second of launching, after which they are guided remotely to their target.
Apparently soldiers from 14 Battery Royal Artillery and Royal Marines from 3 Commando Brigade's Air Defense unit are scheduled to fly to the Falklands as part of the ongoing 'roulemont', or rotation, of British troops which defend the Falklands from attack.
On Saturday night a UK Ministry of Defense spokesperson said: "A small contingent of Royal Marines will join a routine Army exercise which will take place later in the year (in the Falklands)" but would not confirm further details.
Last March UK Defense Secretary Michael Fallon confirmed a ten-year £280m boost to the Falkland Islands' defenses, including a new battery of "super missiles" to replace the Rapier air defense system currently in place.
Among other motives this followed on revelations last December that Argentina was in negotiations with Russia to lease a dozen long-range bombers, capable of attacking Port Stanley, which allegedly fell through because of costs. But nevertheless since then President Cristina Fernandez has embarked in talks with China to boost Argentina's air force.
An Argentine Air Force technical mission was in China last March to look at the FC-1/F-17 Thunder which is manufactured by Chendu Aircraft Corporation in association with Pakistan. The single engine fighter is considered modern, affordable for developing countries, and has been tested in combat. The other option is the Chengdu J-10B, a jet fighter described as having the capability of confronting the "RAFs' Typhoons stationed in the Falkland Islands".
Argentina has also approached or received offers from Spain, France, Israel and Brazil, to replace its aging fleet of aircraft.
China will also supply Argentina with corvettes of the 'Malvinas Class'. The P18 corvette displaces 1,800 tons, is 95 m long, 12 m wide, and is powered by two German-designed MTU 20V 4000M diesel engines to achieve a speed of 25 kt. It can be armed with a 76 mm main gun, two 30 mm cannons, up to eight anti-ship missiles, two triple torpedo launchers, and can carry one medium-sized helicopter.
The escalade of words over the Falklands went a step further earlier last week when the Argentine province of Salta passed a law forcing citizens to sing a song at every public event declaring that the Falklands belong to Argentina. The law will also require every state school in the province to sing the song, known as Marcha de las Malvinas, alongside the national anthem.
Earlier this month in Brussels British Prime Minister David Cameron and Argentina's foreign minister Héctor Timerman exchanged strong words at the two-day summit of 61 EU, Latin American and Caribbean leaders.
The argument began when Timerman delivered a lengthy lecture on Britain's "colonialism" which allegedly began 182 years ago when the UK "expelled Argentine population and authorities from the Malvinas Islands".
Defending Britain's position the PM Cameron replied that Argentina should respect the rights of the Falkland Islanders and should stop threatening companies, which was "unacceptable".
His "clear and robust" rebuttal later caused Cristina Fernandez, who was not present, to accuse him of acting in an "almost ill mannered way".
Furthermore last Wednesday the General Assembly of the Organization of American States (OAS) passed a Declaration calling for the UK and Argentina to resume negotiations on the sovereignty dispute.
A Foreign Office spokesman said: "The UK has no doubt about its sovereignty over the Falkland Islands and surrounding maritime areas, nor about the Falkland Islanders' right to decide their own future, the right of self-determination as enshrined in the UN Charter and the International Covenant on Civil and Political Rights".