Falklands engineer invited to speak on wind energy in Trinidad Tobago
Tuesday, June 23rd 2015 - 06:17 UTC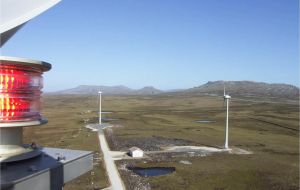 Glenn Ross from the Falkland Islands will be speaking on wind energy and integration to diesel systems at the annual conference of Trinidad and Tobago Professional Engineers Association (APETT) scheduled for June 25/26 at Point Lisas.
The theme of the conference is Engineering For Sustainable Development in the Caribbean and Tim McLeod, principal, CBCL, Canada, will deliver the keynote address on Sustainable Building Design and Adoption of minimum energy or overall sustainability performance for projects.
Civil engineer Fazir Khan, speaking for APETT, said about 200 civil, chemical, mechanical, process and industrial engineers will converge at National Energy Skills Centre (NESC) Auditorium in Point Lisas.
According to the two-day program feature speaker Glenn Ross, Falkland Islands government, will talk about "The integration of Wind Power into small (2MW) diesel systems".
"The Falklands Islands government has been quite gracious to share this gentleman (Ross) to satisfy a large percentage of their electrical power demand" indicated Khan.
In the windy South Atlantic Islands, turbines produce up to 40% of the power consumed in the capital Stanley, and they are planning to generate more power to sell to MPA, Mount Pleasant Airport.
The University of the West Indies (UWI), St Augustine Campus, has also partnered with APETT for the conference. Past APETT president/Express columnist Prof Clembert Imbert is scheduled to attend the conference.
Khan explained that in Grenada and the small Eastern Caribbean islands their electricity is generated by diesel and it is very expensive, "they have been looking at alternative solutions like wind turbines and solar projects to augment their supplies. As local engineers, we have an opportunity to retool ourselves before we get to that point. It is a great opportunity to look at what is being done."
The conference will highlight the engineering input required to support the promotion of sustainable development in the Caribbean and engineers must be adequately trained and equipped in this regard.
"While most of the developed world is concerned with reducing its carbon footprint and expending large efforts and investment in research and development on renewable energy projects, are we doing enough here as engineers operating in small island developing states?", pointed out Khan.