Scioli, 'head of the nation', but Cristina Fernandez 'the natural leader of the Peronist national movement'
Tuesday, June 23rd 2015 - 06:52 UTC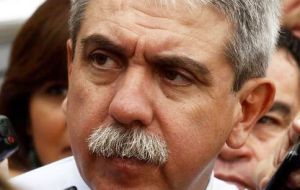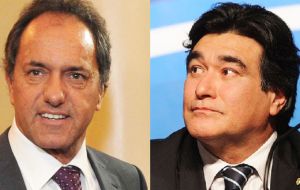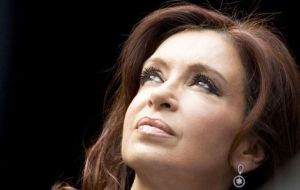 Daniel Scioli, Buenos Aires province governor and incumbent Victory Front presidential candidate, "will be the head of the nation" if he wins October elections while president Cristina Fernández will continue as "the natural leader of the Peronist national movement," Argentine Cabinet Chief Aníbal Fernandez told reporters on Monday.
"She is the natural leader of the Peronist national movement, there is nothing to reorganize, as she is still the leader and will be the leader," Anibal Fernandez said during his morning contact with the media, and asked about the political scenario after 10 December, day on which Cristina Fernandez will be stepping down after eight years in Casa Rosada.
Anibal Fernandez said that the presidential ticket which includes Daniel Scioli and the Executive's Legal and Technical Secretary, Carlos Zannini, (Cristina Fernandez closest advisor together with her son Maximo Kirchner) is a 'winning ticket' and added that both hopefuls are very happy.
Cristina Fernandez (62) decision not to run for any office came as a surprise since much of the media and political analysts speculated that she would pursue, for example, a seat in the Mercosur regional parliament to secure legislative privileges such as immunity from prosecution.
Barred by term limits from making another bid for the presidency, Cristina Fernandez has suffered from a series of health problems since the November 2010 death of Nestor Kirchner, her husband and predecessor.
Scioli is leading in public opinion polls and his main rivals are conservative Buenos Aires Mayor Mauricio Macri and dissident Peronist Sergio Massa, a lawmaker and former mayor of Tigre.