UN Decolonization Committee supports Argentina's Falklands/Malvinas claims
Friday, June 26th 2015 - 06:02 UTC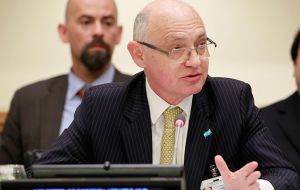 The United Nations Decolonization Committee approved on Thursday a new resolution urging the United Kingdom to discuss the Falklands/Malvinas dispute with Argentina, in order to find a peaceful solution to the conflict. The decision came as no surprise since it has become an annual event despite Falklands' representatives demand for C24 to act in support of Non Self Governing Territories.
The Committee, which gathered in New York, regretted the fact that in spite of the wide international support for a negotiation between the UK and Argentina, the UN General Assembly resolution on the matter has not been yet fulfilled.
Speaking during the meeting, Argentine Foreign Minister Hector Timerman criticized the United Kingdom's unwillingness to negotiate. "Far from making the smallest effort to solve the controversy, they irresponsibly aggravate it," he said.
"They constantly increase their military presence in the South Atlantic; they make new efforts towards exploring and exploiting natural resources in the region, they exploit fishing resources beyond their sustainability, they have orchestrated a campaign to distort the perception of the transplanted population," Timerman said, enumerating what he considered the UK's wrong approach to the matter.
Besides Timerman, Islanders Mike Summers and Phyl Rendell took part in the meeting, as well as Ricardo Paterson and Guillermo Clifton, who defended Argentina's position.
Phyl Rendell told C24 members that the Falklands are very satisfied with their current political status, as a British Overseas Territory, ratified in a referendum two years ago, and have no interest at all in being 'colonized' by Argentina, "who makes no secret of wanting to control our territory against our wishes" .
"Instead we have chosen the internationally recognized status of a British Overseas Territory: a modern self-governing relationship with the United Kingdom (UK). We have our own system of government and local laws. This is quite different from the definition of a colony", said MLA Rendell.
MLA Mike Summers strongly criticized the C24 for their support of Argentina, despite the various ways in which the Argentine government seeks to destroy the economy of the Falkland Islands, and to harass its people.
"Please be clear; if you support Argentine colonial aspirations in the Falkland Islands, you are complicit in supporting Argentina's bullying and harassment. You are complicit in denying our children the fresh fruit and vegetables they require for healthy living. You are complicit in denying us open trading relationships with our neighbors. You are complicit in continuing to deny peaceful co-existence and responsible stewardship of the eco-system in our region".