Argentina's threat against Falklands' oil companies with no impact on markets
Tuesday, June 30th 2015 - 05:16 UTC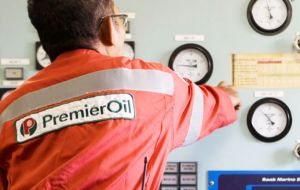 The Argentine court order that assets of several international oil companies drilling for oil in the Falkland Islands be seized has caused mild turbulence in their share prices. Tierra del Fuego judge Lilian Herraez ordered the authorities to seize bank accounts, boats and other assets worth an estimated US$156mln.
Of the five companies named in the case, Premier Oil, Rockhopper Exploration, and Falkland Oil & Gasare British; Noble Energy is based in Texas in the US and Edison International a is French-owned based in Italy. None of the companies are based in Argentina or operate in Argentine waters.
London has sovereignty over British Overseas Territory Falkland Islands, which it has held for 180 years, but Argentine calls the islands Malvinas and claims sovereignty.
Argentina invaded and occupied militarily the Falklands in 1982, until the Islands were liberated by a British Task Force 74 days later. Falklands' defeat and shame, forced the military junta that ruled Argentina to collapse and open up to democracy 18 months later in December 1983.
None of the three UK companies named – all of whom have made discoveries in the Falklands since exploration began anew in 2010 -- commented when the London Stock Exchange (LSE) opened in London on Monday.
A spokeswoman for Premier Oil chief Tony Durrant said: "We never comment political matters."
A spokesman for Sam Moody, Rockhopper Exploration's chief executive,: "We will not be commenting on moves".
One broker said: "The price movements were so minor they barely added to the concerns. This is just more saber rattling. Remember they do have elections in Argentina in October."
An adviser to Premier Oil said: "I think this is the fifth time in 15 months they have made threats of one kind or another. It is just all political noise".
Foreign Secretary Philip Hammond accused Argentina of bullying. Hammond told Sky News: "It is an outrageous piece of bullying and threatening against the Falkland islanders' perfect right to develop their own economic resources and Argentina needs to stop this kind of behavior and start acting like a responsible member of the international community".