Wales and Argentina celebrate 150th anniversary of migration to Patagonia
Wednesday, July 1st 2015 - 02:22 UTC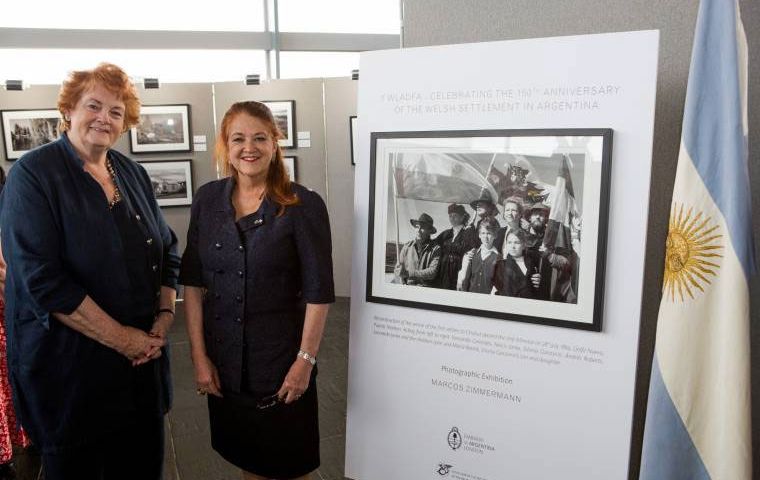 Argentina and Wales celebrated on Monday at the National Assembly for Wales, in Cardiff, their historical links with a reception especially dedicated to mark the 150th anniversary of the arrival of the first Welsh settlers to Patagonia. Musicians from both nations gave a concert and a photography exhibition on the Welsh settlements in Patagonia was inaugurated.
The event, which drew local politicians, contributed to strengthen the excellent relationship between Argentina and the British nation at the time of this anniversary. Before the reception, Ambassador Alicia Castro held a meeting with Presiding Officer Dame Rosemary Butler, in which issues of common interest were discussed.
During the meeting, the Welsh politician expressed to the Ambassador her wish to meet Argentine parliamentarians when making an official visit to our country in the coming months.
"I feel proud to represent a country that welcomed and gave a homeland to the Welsh and their values, a country which has always opened its doors to people of all nationalities and cultures, and which continues to do so today", stated the Argentine diplomat.
On Monday, the Senedd's ground floor hosted a photographic exhibition by prestigious Argentine photographer Marcos Zimmermann dedicated to the Welsh communities in Patagonia.
Along with Dame Rosemary Butler and Ambassador Castro, the reception was attended by Lord Wigley, Chair of the Committee charged with the celebrations; members of the National Assembly for Wales, local cultural figureheads and members of various Argentine-Welsh associations. Musicians from both nations gave a concert of tango and folklore and Argentine wines were served.
During 2015, the excellent relationship between Argentina and Wales is enhanced by a wide range of activities that are taking place on both sides of the Atlantic to celebrate the common history shared by both peoples. The Embassy of Argentina is coordinating the calendar of events taking place during this 150th anniversary alongside Welsh authorities and the Province of Chubut in Patagonia. (Report from Argentine embassy in London).-