Mercosur summit will establish 'action plan' to speed discussions with Europe
Thursday, July 2nd 2015 - 06:13 UTC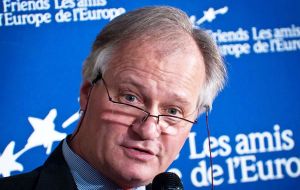 The Mercosur Council will establish an "action plan" at the next Mercosur presidential summit scheduled for 16/17 July in Brasilia, when the group's chair for the next six months will be handed to Paraguay by Brazil. Other issues on the agenda besides making Mercosur more flexible include addressing the 'special regimes' and the 'free trade zones' in the area, revealed Uruguay's foreign minister Rodolfo Nin Novoa.
"Discussions with the European Union continue to advance. We're planning a meeting for next September between Mercosur members so we can present our tariffs' reduction list to be exchanged with the European Union as part of the agreement; that's why we need an action plan", said Nin Novoa.
"That will be a chance to see how each of the group's members are advancing and how we can move the schedule, if there's anything to improve, so that we can be sure that we are ready for the November presentation of lists, as we have agreed with the EU", pointed out the Uruguayan official.
Questioned about the Greek situation and its possible impact on Mercosur and overall Latin American, Nin Novoa tried to downplay the issue and said "it should not have an impact on our economies", or in the trade talks between EU and Mercosur.
However, "the world nowadays is so interrelated, so intertwined that all is related. The Greek situation is complicated, difficult and it's going to have an impact on the EU and we have relations with Europe, so sooner or later it will have some economic effect".
In related news, in a video conference from Brussels, Christian Leffler head of the EU Americas' Desk said that Europe expects Paraguay to lead Mercosur strongly during a period particularly vital for the exchange of proposals between the two blocks, leading to a much delayed trade and cooperation agreement.
"It's an important moment. We have full trust that Paraguay will lead Mercosur adequately and dynamically", said Leffler in the video conference. "This was the case with the Mercosur presidency under Brazil, and now under Paraguay".
The Mercosur summit has been announced for July 16/17 in Brasilia and besides full members, Argentina, Brazil, Paraguay, Uruguay and Venezuela, to the event have been invited the presidents from Chile, Peru, Ecuador, Bolivia, Colombia, Suriname and Guyana, associate members of the South American group.