Dilma rejects any suggestion of stepping down and blames "a bunch of coup mongers"
Wednesday, July 8th 2015 - 07:37 UTC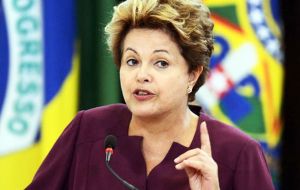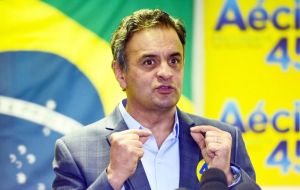 Brazilian President Dilma Rousseff said in an interview published Tuesday in the daily Folha de Sao Paulo that there's no reason she should be ousted, so she has no fear being removed. Rousseff went further and accused certain sectors of the opposition of being "a bunch of coup mongers".
"I'm not going to fall. No, I'm not. It's a political struggle. People fall when they're ready to fall and I'm not. There's no reason for it," she told the newspaper.
In recent months, some minority sectors of the opposition have weighed the possibility of demanding Rousseff's impeachment based on the corruption cases uncovered at the state oil company Petrobras, for which corporation leaders have been jailed and about 50 politicians from the ruling coalition are being investigated.
"If there's anything I don't fear it's that (being impeached). Don't depend on me getting nervous or afraid. They don't scare me," said the president, whose approval rating is currently below 9%.
Rousseff accused certain sectors of the opposition of being "a bunch of coup mongers" and recalled that, to get a president thrown out, "they have to explain why they're doing it." She added "they confuse their wishes with reality".
The president also responded to the rumors of her suicide that weeks ago went viral on social networks, and recalled that not even when she was tortured during the 1964-1985 military dictatorship did she ever think of taking her own life.
"The other day they wrote that I tried to commit suicide, that I was super-traumatized. Don't bet on it. It was 100,000 times worse being jailed and tortured. We live in a democracy, so there's no reason to think that this is torture. It's not. It's a struggle to build a country," she said.
Asked about the criticism of her presidency by her predecessor Lula da Silva, Rousseff said once more that she respects all the opinions of her political mentor: "He has every right to say where he is and where he thinks I am."
She did, however, take issue with some of his critical remarks and replied, "I'm fighting tirelessly to overcome a pretty tough moment for the nation's economy."
Brazil is going through a difficult situation, made worse in recent months by austerity policies aimed at curbing a budget deficit. The world's seventh economy closed 2014 with growth of only 0.1% and official forecasts call for the economy to shrink 1.2% this year, even as inflation heads toward 9%.
At a party conference on Sunday, opposition leader Senator Aecio Neves said his Brazilian Social Democracy Party (PSDB) and other politicians felt that President Dilma Rousseff' "will struggle to complete her mandate" adding that her government may end "faster than you think".
At the weekend party convention, Neves said the PSDB is preparing to stop being in opposition and making plans for government, a none-too-subtle reference to the president's potential downfall.
Neves remarked that: "I see that some parties supporting the government today have the feeling, even more than ours, that she (Rousseff) will struggle to complete her mandate." He added her government may end "faster than you think," to huge cheers.
The PT's official website published on Monday a letter from dozens of social movements denouncing the attempt to "break the constitutional order" with pressure designed to hasten Rousseff's departure.
Neves and former president Fernando Henrique Cardoso drew the attention at the PSDB convention which concluded Sunday night in Brasilia. After the PSDB re-elected Neves as its leader, the party's honorary president, Cardoso, did not hold back in his criticism of the PT.
"We are witnessing a social discomfort with the government that is getting worse with the paralysis of the executive... and in this the PSDB cannot escape its responsibility, we are ready to take over, the PSDB know how to govern."