Malvinas conflict former soldiers' claim to pension denied by Supreme Court for lack of combat evidence
Wednesday, July 8th 2015 - 07:02 UTC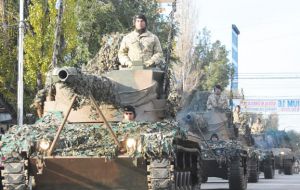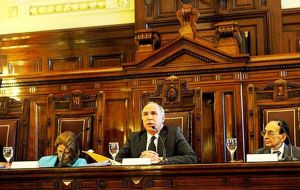 Argentina's Supreme Court in what is considered a lead case on Tuesday ruled contrary to Malvinas war pensions for the former soldiers who served with the Eighth Mechanized Infantry regiment, based in Comodoro Rivadavia during the 1982 conflict, because they were never involved in combat or participated in the Military Operations Theatre.
The Justices supported an appeal from the country's Attorney General office and thus threw out previous sentences that recognized as a Malvinas War Veteran a former soldier who during the 1982 conflict was stationed in Comodoro Rivadavia but never took part in any war actions.
The Court threw out a Cordoba Federal Appeals Court decision which ruled in favor of plaintiff Victor Hugo Arfinetti together with another group of thirty soldiers, who presented a demand against the Argentine state, the Ministry of Defense and the Argentine Army.
The previous rulings stated that the former soldiers (conscripts) had the right to be included in the terms of Law 23.109 which extended benefits to those who had participated in war actions in the South Atlantic between 2 April and 14 June 1982.
However on Tuesday the Justices threw out the Appeals Court ruling arguing that plaintiff Arfinetti was unable to give evidence of his participation in combat actions, complying with patrolling duties and defense of the Argentine military bases along the Patagonia coast from where the British Task Force was attacked during the conflict.
The Supreme Court in a resolution signed by Chief Justice Ricardo Lorenzetti, and Justices Carlos Fayt, Juan Carlos Maqueda and Elena Highton de Nolasco, supported the 16 December 2013 presentation by the Attorney General's Office and denied the plaintiffs in the case could be considered War Veterans without having participated in war actions, as defined by Decree 739 from 1989.
This ruling however seems to contradict a similar controversy but which was positive for the plaintiff: retired non commissioned officer, Carmelo Antonio Gerez was supported based on a "declarative action of certainty" to prove his veteran condition. In effect during the conflict Gerez was originally stationed at Puerto Belgrano in Buenos Aires province, but was later transferred to the Navy's air base in Rio Grande, Tierra del Fuego, where he was on active duty at the control tower guiding Argentine aircraft fighters flying to attack the enemy.
The Justices argued that in plaintiff Gerez case he was effectively at the Military Operations Theatre, in a duty and location with serious risks and had sufficient evidence to support his claim. But in the case of Arfinetti and his comrades the Court confirmed the Attorney General Office's position arguing that the plaintiffs were unable to prove participation in combat conditions, although they were part of the South Atlantic Theatre of Operations.