China becomes main importer of Uruguayan and Argentine frozen beef
Friday, July 10th 2015 - 07:08 UTC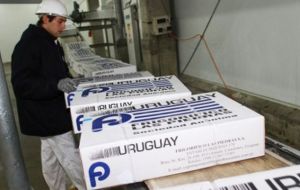 China has become the largest importer of frozen Argentine beef, according to the latest data released by the Industry and Trade of Meat and Meat Produce Association (CICCRA). However these figures are far from neighboring Uruguay which in four months shipped to China almost 50.000 tons, that has become the country's leading market.
The data revealed that China's consumption of frozen Argentine beef has boomed in recent months, with the Asian giant receiving 17,050 tons of beef so far this year, which equates to 35.2% of total exports.
This represented a huge increase in beef exports to China — with current growth estimated to have expanded by 266.9% on the year. Chile, meanwhile, was confirmed as the second largest recipient of frozen beef, purchasing 10,050 tons so far in 2015, or 20.8% of the total. Unlike China, this reflected a slight drop in demand, down 6.6%.
Other main importers of Argentine beef included third-placed Israel, buying a total of 7,238 tons between January and May at 14.9% and in fourth, Russia, which imported 5,129 tons, or 10.6% of total exports. Long-term recipients Germany and Brazil also ranked highly, with purchases of 2,206 and 1,782 tons respectively.
The data also revealed that the average Argentine currently consumes almost 60 kilos of beef per year, with per-capita consumption of the red meat recorded at 59.9 kilos per annum, in fact a slight drop of 2.9% on the previous year.
Overall, total consumption of Argentine beef showed a growth of 3.3%, with the report stating that activity in the beef refrigeration industry was now at its highest level in almost two years, approaching a previous peak of October 2013. Overall revenues (up 0.3%), however, were curtailed by falling prices. "The growth in export volumes was offset by lower unit price," the report said.
The data also detailed the latest numbers of animals slaughtered in production, showing that 1.1 million animals were butchered in June alone, raising the yearly total to 6.18 million for 2015 so far, "up 3.1% from the preceding year."
Regarding Uruguay stats, in the first months of the year to 9 May, exports totaled 171.000 tons and 659m dollars compared to 147.000 tons and 609m dollars. China took 29% of exports, followed by Nafta, 24% and European Union, 23%.