Falklands and Welsh anniversary in Argentina: chronicle of a foretold debate
Saturday, July 11th 2015 - 07:22 UTC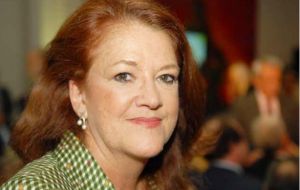 Next 28 July Wales First Minister Carwyn Jones will be attending celebrations in the province of Chubut in the framework of the 150th anniversary of the first Welsh settlement in Patagonia, 28 July 1865. An event which in an electoral year in Argentina could become a good opportunity for president Cristina Fernandez to press on the Falkland Islands dispute, according to speculation in the Buenos Aires media.
In effect, First minister Carwyn Jones will be the first top level British elected official in years to visit Argentina, and there is a diplomatic protocol to be respected by both sides. Nevertheless Argentina and its current ambassador in London, Alicia Castro have been quite bold when not aggressive in pressing for the 'Malvinas Argentina' message, but the Tories have been aware and accused the Welsh leader to be playing into the hands of the Argentine government setup.
In effect earlier this week when the opening of a photographic exhibition at the British Parliament dedicated to the Welsh settlement in Trelew and Gaiman: "The Welsh in Patagonia: a century and a half of history", ambassador Alicia Castro took the chance and referred to the issue elliptically.
Castro said that today around fifty thousand Welsh people and their descendants live in Argentina and "they have managed to preserve their way of life, customs, language and cultural identity...they found, in Argentina, a land that could live up to their dreams".
"The Welsh settlers in Argentina are an excellent example of the consideration, friendship and opportunities that our country offers people of British descent", Castro declared to a packed audience at Westminster.
"I feel proud to represent a country that welcomed and gave a homeland to the Welsh and their values, a country which has always opened its doors to people of all nationalities and cultures, and which continues to do so today"
"We hope that this year, which marks the 150th anniversary of the Welsh settlement, will also be a year in which Argentina and the United Kingdom resume friendly and meaningful dialogue", concluded the Ambassador.
Protocol indicates that First Minister Jones will have to be accompanied during his tour of Argentina by officials from the British embassy in Buenos Aires, so besides the celebrations it should not come as a surprise if the Falklands question is pressed by the outgoing Argentine government of president Cristina Fernandez.