Falklands/Malvinas, Puerto Rico and Bolivia's sea outlet claim, in Pope's agenda, reveals Morales
Saturday, July 11th 2015 - 05:59 UTC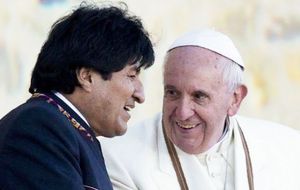 Bolivian president Evo Morales revealed on Friday that Pope Francis told him that there are three pending issues in the continent, Puerto Rico, Falklands/Malvinas and Bolivia's sea outlet claim. The pope has been recognized by all sides as the 'bridge' which helped bring together Cuba and the US after over half a century of mutual distancing.
"Brother Pope, I don't know if it is important to mention it, but you told me there are three pending issues in Latin America and the Caribbean: Puerto Rico, Malvinas and the sea for Bolivia", said Morales during an interview with a radio station in Santa Cruz, the city where the pope congregated over a million people for mass on Thursday.
Bolivia currently has a demand before the International Court of Justice in The Hague, hopefully waiting that the court invites Chile to sit for negotiations with La Paz over a sea outlet for Bolivia.
The Falklands/Malvinas on the South Atlantic are currently under UK sovereignty but Argentina claims them. In 1982 Argentine forces invaded and occupied the Islands for 74 days before they were ousted by a British Task Force. In 2013, the Falklands based on their right to self determination held a referendum in which the Islanders overwhelmingly decided to remain a British Overseas Territory.
Puerto Rico is a 'non incorporated' (Free Associated State of Puerto Rico) territory of the United States, where full independence is part of the national debate.
Morales made the comments when asked about the private talks he had held with Francis regarding Bolivia's sea outlet claim.
"In the first meeting he asked for more information (on the sea outlet issue). We sent it to him. In the second meeting I personally carried the documents and told him about the claim, he was well informed", said president Morales.
"The fact that during his speeches he said there is a pending issue is a clear support (of Bolivia)", argued Morales who said it was not by chance that Francis talked about the Bolivian demand during his visit to the country.
The pope said dialogue was 'indispensable' over the sea outlet dispute between Bolivia and Chile, during his speech at La Paz cathedral.
Morales finally admitted that at one point it crossed his mind that the pope could mediate in the issue, but recalled that the matter is already to the consideration of the International court in The Hague.